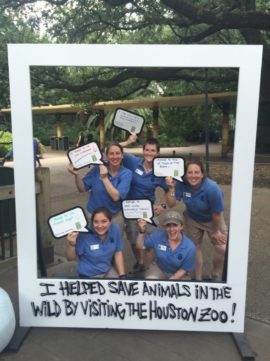 Just a short drive from Galveston, the Houston Zoo has strong ties to the Texas coast. Regular participation by staff in sea turtle surveys and beach cleanups help to keep our local marine wildlife safe, as do efforts to reduce our plastic intake by going plastic bag and bottle free on Zoo grounds.  However, with animal ambassadors from all over the world in our care, our goal is to not just protect local marine life, but to help our ocean dwelling friends like sea turtles, sea lions, and sea birds all around the globe! This Saturday, June 9th from 10am to 3pm the Houston Zoo's sea lion team will be hosting a spotlight on species (SOS) event in celebration of World Oceans Day, where you can learn more about these efforts and support projects like the one run by our partner Dr. Marcela Uhart in Argentina.
A veterinarian and long-time conservationist, Dr. Uhart works with the University of California Davis as the Regional Director of the Latin American Program at the Wildlife Health Center. For over 20 years, Dr. Uhart has focused on the health of marine species, and works to protect a variety of animals such as sea turtles, sea lions, sea birds, and whales. Much like the work we are doing here, Dr. Uhart and her team are able to best protect marine species through efforts to reduce marine debris. In 2017, these efforts were carried out in a variety of ways:
With the help of over 300 volunteers, the team completed their 2nd marine debris census and beach cleanup. The cleanup covered 13 coastal towns near Buenos Aires, and resulted in the collection of 40,000 debris items – 82% of the items recovered were plastics.

Results of the 2nd marine debris census

During April and May 2017 the team performed weekly beach surveys, covering over 100 miles (that's similar to the distance from the Zoo to Texas A&M University) of Buenos Aires province coastline. These surveys resulted in the discovery of 30 deceased sea turtles, an improvement over the numbers found in 2016. Determining the cause of death can help to influence policy and the promotion of better commercial fishing practices.
Additionally, the team also hosted a workshop on a method called Community Based Social Marketing (CBSM), a method of creating changes in behavior by identifying and addressing barriers and benefits individuals or communities may face as a result of a change. An introduction to CBSM was presented to 24 local participants, providing them with tools to improve their impact on public policies in their communities as well as help them more effectively drive cultural and behavioral changes in citizens, with the common goal of reducing pollution of the coastal environment.

Volunteers helping with a beach clean up in Argentina
We are extremely proud of all of the hard work Dr. Uhart and her team are putting in to save marine species, and we can't wait to see what they are able to accomplish in the coming months. By attending the sea lion team's SOS event this Saturday, you will be helping to support Dr. Uhart's efforts to host a second behavior change workshop for the local communities. In addition to providing training, funding will assist in being able track results from data collected this year, all in an effort to reduce marine debris on the beaches of Argentina.