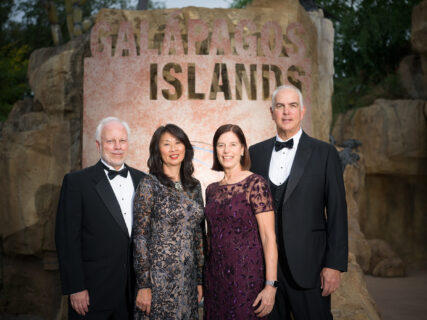 On Sat., Oct. 21, Zoo Ball 2023 – A Starry Night in the Galápagos presented by Phillips 66 rose vital funds for Houston Zoo. At this year's black-tie gala, a crowd of more than 740 Houstonians were welcomed to Houston Zoo's Galápagos Islands, the first major exhibit of its kind to showcase the remarkable wildlife of the legendary island chain and raised more than $2 million to support the Zoo. This year's sold-out event, hosted by co-chairs Jordan and Dylan Seff and Vanessa and Chuck Ames, was themed to celebrate the Zoo's most transformative exhibit yet, and welcomed honoree Stacy Methvin, extraordinary leader, and Houston Zoo's Board Chair from 2016-2022.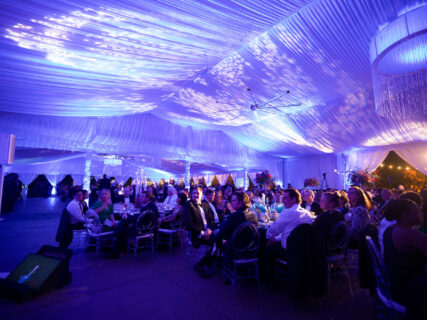 The partygoers turned up the volume on gowns and glamour as they strolled through the Zoo's newest exhibit and got to meet and mingle with Galápagos tortoises, sea lions, and penguin keepers. The Zoo transformed its tented event space, Masihara Pavilion, into an elegant ballroom. City Kitchen served a delectable Ecuadorian-inspired multi-course dinner beginning with a poached shrimp and jumbo lump crab salad with heart of palm, micro cilantro, and a plantain chip followed by medallions of prime aged beef tenderloin with a cabernet reduction and chimichurri, twice baked Andean gold potato with scallions with a bittersweet chocolate and dulce de leche tart with a cinnamon gelato and carajillo chocolate sauce.
Houston Zoo President and CEO Lee Ehmke expressed his gratitude for Stacy Methvin's guidance and influence in helping to transform Houston Zoo into a leader in wildlife conservation. To honor Methvin's legacy, Ehmke announced a wild Asian elephant will be named after her. The elephant will be monitored by one of our conservation partners, Dr. Farina Othman from Borneo.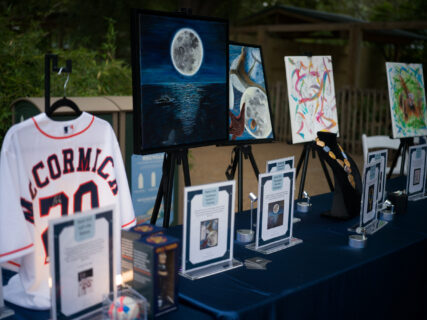 During this year's silent auction, chaired by Margaret Farnsworth and Stephanie von Stein Schusterman, guests bid on items during cocktail hour with the highest bid going for a cocktail reception in Galápagos Islands' Sea Lion Tunnel and dinner in One Ocean for $11,050. After dinner, a spirited live auction called by auctioneer Logan Thomas highlighted competitive items. A five-night stay for 14 people in Park City, Utah went for $19,500. A week-long stay in Wells Beach, Maine including $1,000 to restaurants and first-class airline tickets went for $22,000. Another week was auctioned to the runner up for another $22,000. A VIP Houston Rodeo experience including VIP fine-dining reservations for six at The Ranch Saloon + Steakhouse and club seats went for $15,000. A four-night stay for 18 people in Puerto Vallarta with a catamaran, a private chef and mixologist went for $27,500. An additional stay was auctioned to the runner up for another $27,500. Naming rights for one of the Zoo's blacktip reef sharks went for $19,500 in a lively bidding war. The naming rights to name the other blacktip reef shark was then auctioned to the runner-up for another $19,500. Following the live auction, guests gave generously to the tune of $180,000 during the paddle raise and vied for a chance to be the "last hero standing" to win gift certificates to Zadok Jewelers valued at $10,000 for the first-place winner and $2,500 for the second-place winner.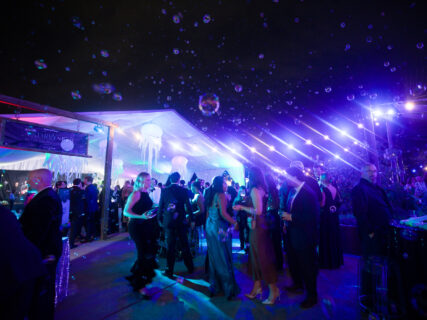 This year, the After Party was sponsored by PNC and chaired by Kristina H. Somerville. Late-night bites, open bars and dancing featuring The Party Feels kept revelers dancing until midnight.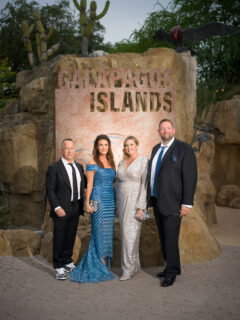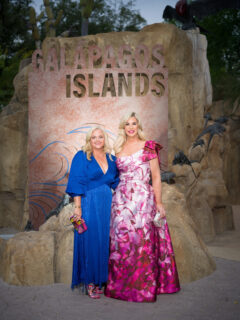 Faces in the crowd: Jodan and Dylan Seff (Zoo Ball co-chairs), Vanessa and Chuck Ames (Zoo Ball co-chairs); Margaret Farnsworth and Stephanie von Stein Schusterman (Auction Chairs), Kristina H. Somerville, (After Party Chair), Lee Ehmke (Houston Zoo president and CEO) and Sue Chin, Stacy Methvin (Honoree), Joe and Cathy Cleary, Kelley and Stephen Lubanko, Carey Kirkpatrick, Alie and Dave Pruner, Phoebe and Bobby Tudor, Courtney and Zac Harmon, Dr. Sippi Khurana and Ajay Khurana, Gillian Hobson and Sadie Rucker.