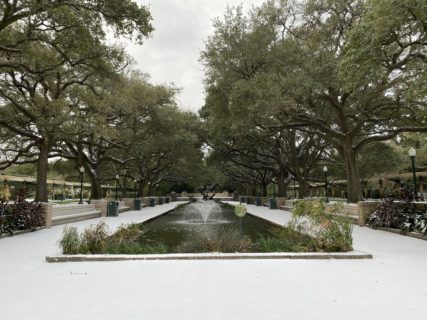 As Winter Storm Uri approached Houston, the Zoo's leadership team made the decision to close the Zoo. On Sunday, Feb. 14, more than 60 employees left their homes to be a part of the ride-out crew and remain at the Zoo for the duration of the weather event. Preparations included onsite sleeping arrangements, securing food and water for staff and animals, and making backup supplies available. Read more about how our team came together to keep our animals and staff safe.
Animal Care
When frigid temps are on the way, the entire animal care team goes into overdrive making sure the animals at the Zoo have what they need to stay warm. But it's not one-size-fits-all. Each species is unique. Every animal has a care team dedicated to knowing what preparations each animal needs to ensure they are comfortable during the cold snap. Our Carnivore and Natural Encounters teams shared some of the preparations they took to prepare for the winter storm.
During the first night of the ride-out, Carnivore Keepers Alicia and Tori emptied and opened all of our pools, turned off unnecessary water like water falls or trickling pools, cleared the drains in the areas, and brought extra bedding to the buildings. They had to find places for all of the meat, bones, and frozen prey items to be stored so that they wouldn't go bad when the Zoo lost power. They have been part of our ride-out crews during previous storms so they were able to quickly jump right in and assist other animal care teams once their areas were prepared.
The cats and dogs were pretty resilient when it came to the colder weather. The animals that loved the snow and going out in the weather were our lions, Malayan tiger, jaguar and the African painted dogs. They had a blast playing with enrichment on exhibit. – Carnivore Keeper Tori
Natural Encounters Keeper Hayley was also part of the ride-out crew. Her team prepared by filling large containers of water, having lanterns in every section, and giving the animals plenty of extra blankets (like our meerkats) and hay to stay warm indoors. While we were closed to the public, our African grey parrot, Lucy, and our green-winged macaw, Clark, were able to explore the guest floor and visit other animals in our Natural Encounters building.
I am so happy to be a part of the Houston Zoo! Animal and non-animal departments all worked together to make sure the Zoo was running as smoothly as possible under "less than ideal" conditions, including offering help and assistance anywhere it was needed. – Natural Encounters Keeper Hayley
Once the temperatures warmed up a bit, some of our animals got to see snow for the first time.
Our animal hospital was staffed with a ride-out keeper, veterinarian, and veterinary technician, who were able to provide medical care for animals that needed it during the storm and hospitalize critical patients. While our team rallied to keep the animals at the Houston Zoo safe and warm during the catastrophic freeze last week, sadly several birds and one turtle did not survive. Even though the animal care professionals at the Zoo forged valiant efforts to provide them warm shelter, nine birds and one turtle died as a result of the unprecedented cold weather conditions.
---
Water Quality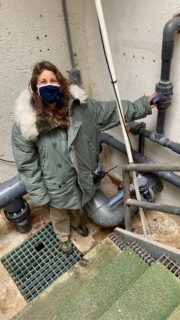 For our Water Quality team, preparations include covering equipment with tarps to insulate, protecting smaller pipe, increasing indoor building temps in spaces without built-in heaters, increasing system water flow, and deploying kerosene-fired torpedo heaters to keep our aquatic life support areas protected from freezing temps. Watch this video of our team breaking up the ice that formed in the Reflection Pool.
During the water boil notice, an emergency water plan was put into action to supply water from the chlorinated elephant bull yard pool for other animal sections via a makeshift, drive-thru filling station. This allowed us to supply clean water via buckets and barrels to the Children Zoo's and Primate staff.
As for the low water pressure issue… after some careful analysis and calculations by our WQ/LSS Manager, Mike Fannin, we were able to remotely adjust the Zoo's main water pressure booster station to improve water pressure Zoo-wide from 3 psi to 22 psi Wednesday afternoon. This was not only great news for animal sections (not to mention running water for handwashing, dishes, and toilet-flushing for staff) but critical for many of our aquatic life support systems, such as heater/boiler operation for the endangered turtle collection in the orangutan pool.
Even though there were fewer than usual staff at the Zoo on any given day of the ride-out, it was amazing to see everyone here working crazy hard to make sure animals and humans were all safe. 14+hr days flew by, and the sense of community was so heartwarming.  – Water Quality Technician Karen
---
Horticulture
For the Zoo's Horticulture team, they prepared by covering most delicate plant with a freeze cloth, moving plants from outdoor holding into our greenhouse, turning off all irrigation controllers, and wrapping irrigation backflows and pipes. Because of the severe freezing temperatures, most of the Zoo went from green to brown. Because we have so many tropical plants, many of them suffered the most damage, but many of these will come back over time. As we begin to assess the damage, our Horticulture team is cutting back soft tissue plants (gingers, lilies, etc.) to the ground while leaving woody plants (azaleas, duranta, bamboo, etc.) alone until they show whether they have survived or not.
In addition, much of the browse we grow onsite and offsite to give to many of our animals, including sifaka, okapi, and insects, was destroyed, but we have prioritized the browse we need for certain animals and received browse donations from Woodland Park Zoo in Seattle, WA. Browse is not essential for our animals' diets, but we've been working closely with our Animal Nutrition department to provide more greens as rebuild our browse farms.
---
Facilities 
Our facilities team worked around the clock to make sure that animals like our giraffe herd stayed warm and cozy inside, safe from the cold. They reviewed heating priorities provided by the animal care teams and planned for backup power in case of an outage. They procured five emergency backup generators to deploy across the Zoo and mobilized 20+ portable generators for heating equipment and critical LSS equipment. In the event of the Zoo's power outage, power was lost to critical heating and filtration systems that served our animals, but our facilities team worked with animal teams to set criteria for heating needs and prioritize where power was needed. Electricians and HVAC technicians worked together to bring systems online and monitored them throughout the storm/power outage. In addition, our electricians worked together with electrical contractors to perform testing on the Zoo's electrical power distribution system in efforts to identify the cause of an outage, make necessary repairs, and restore power.
We couldn't have done this without an amazing ride-out team! – Electrician Jake
---
Health, Safety & Security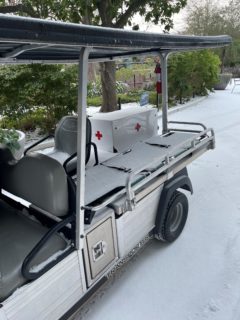 The Ranger team was ready and willing to do their part in the ride-out. They had a few dedicated individuals that volunteered as soon as the call went out and that shows a true commitment to the wellbeing and concern that we have for our staff and animals here at the Zoo. They also focused on accountability and security. They started by making sure everyone was all on the same radio channel to make sure everybody's communication was one. All carts and radio batteries were checked and charged in case of emergencies. They had a checklist with everyone's name that was part of the ride-out crew and everyone who came in and out throughout the days, a meals checklist was also accounted for to make sure everyone had a meal. In addition, a lot of buildings in the Zoo lost power so generators had to be used. Radio charging stations, along with extra radios provided, were also moved to closer places to everyone's convenience that had power.
The ride-out team response was not unlike a military operation. Each department understood their responsibilities and completed them as best they could. When there was a need to be covered, all HZI staff stepped up and filled the void. It did not matter which department you worked for, everyone worked together to manage the crisis. I am extremely proud of our staff and their selfless commitment to our collection, each other and the Houston Zoo! – Ranger Supervisor Chuck
We also want to thank our friends and partners at JUST Water for donating 1,800 cartons of water to replenish our supplies following the storm.
The Houston Zoo did what we do best. We came together in the face of adversity and tackled the big job of protecting our Zoo and animals from the storm. We want to give a BIG thank you to our ride-out crew staff who worked tirelessly to keep our animals, plants, facilities, and each other safe during last week's winter storm.
Watch the video below to see our team in action!