Giraffe, Jaguar, Lemurs, Orangutan, and Duiker Make Debuts
There are a few new faces to meet at the Houston Zoo this summer as several animals moved to Houston on breeding recommendations, and some are brand-new species to the Zoo.
The Houston Zoo is an accredited member of the Association of Zoos and Aquariums (AZA) and participates in the Species Survival Plan® (SSP), a program which oversees the population of select species within AZA member organizations and to ensure a genetically diverse, demographically varied, and biologically sound population.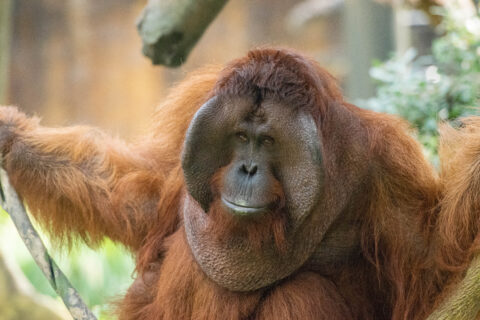 In April, orangutan Takai arrived at the Houston Zoo from Omaha's Henry Doorly Zoo, and after 30-days of quarantine has made his public debut. Takai is a 15-year-old, male Bornean orangutan, and the Zoo has hopes that he will be a good match for 11-year-old female, Aurora. Since orangutans are solitary animals, much of the time, Takai will be in the orangutan habitat by himself, however guests may see him with Aurora, Cheyenne, or Kelly once relationships have been established. Houston Zoo animal care experts have already found Takai to be playful, curious, and friendly.
On May 26, two crowned lemurs moved to the Zoo's Wortham World of Primates lemur island from Oakland Zoo and Chicago's Lincoln Park Zoo. Tashi is a 22-year-old female with grey fur and Tsingy (pronounced Zingy) is a 5-year-old male with red-brown fur. Based on the pair's age their relationship is purely platonic. The Zoo's primates care team will soon begin introductions with the ring-tailed lemurs in hopes that both species can share space on lemur island.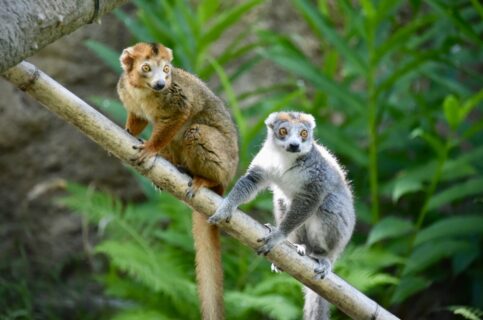 In May, Vida, a two-year-old jaguar moved to Houston from Memphis Zoological Garden & Aquarium to be matched with eight-year-old male jaguar, Tesoro. The animal care team will soon begin to slowly introduce Vida to Tesoro in hopes that they are compatible. Vida is currently getting comfortable with her new home and will soon be seen by visitors in South America's Pantanal. Vida has shown an eagerness to train with her animal care staff.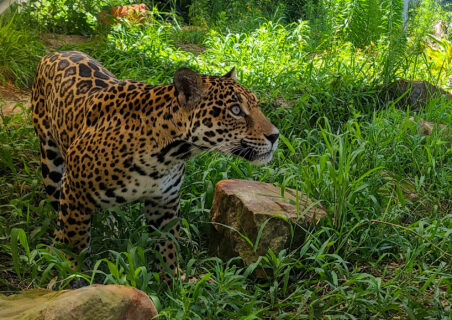 On May 10, Masai giraffe Joshua moved to Lehigh Valley Zoo in Pennsylvania. That same day, the Zoo welcomed Zawadi from Cleveland Metroparks Zoo. The nearly 5-year-old Masai giraffe is currently being quarantined behind the scenes in the giraffe barn for the next few weeks and will soon be introduced to the rest of the herd. When he joins the herd, it may take Zawadi some time to get used to the Giraffe Feeding Platform, but the giraffe care team is hopeful he will soon be an eager participant in the popular program.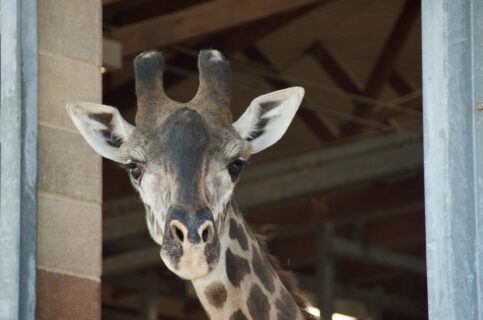 A pair of blue duikers Vlad and Seana (pronounced Shana) have been added to the pygmy hippo exhibit. The duo spent a few weeks getting comfortable in their new home before being introduced to pygmy hippo Silas. The threesome gets along well and can be seen sharing the habitat. Blue duiker is a small antelope found in central, southern and eastern Africa and is the smallest species of duiker. The tiny mammals are around one-foot-tall and can currently be found hiding in the grasses or getting to know their bongo neighbors.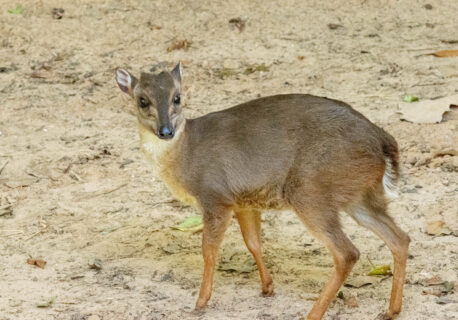 The Houston Zoo is proud to support 33 wildlife conservation projects in 17 countries around the world, including regions where these animals are found in the wild. The Zoo provides training, technical, and financial support to our global community-based wildlife conservation partners that are committed to educating and strengthening local communities, conducting research, and reducing threats to save animals from extinction.