Zoo News Blog
Your Visit Helps to Provide Vital Training to Snake Saving Partner Murthy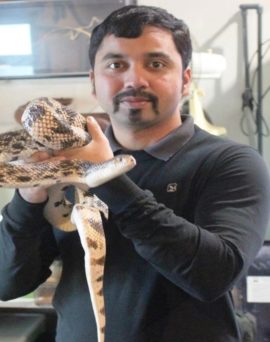 During the last week of January, we had the pleasure of hosting one of our newest team members, Murthy Kantimahanti here at the Houston Zoo. Murthy, who works to save snakes in India, was brought to the Houston Zoo in order to train with zoo staff and expand his skill set while sharing his knowledge with our team members at the same time! These vital training sessions are made possible through a portion of your admission ticket going towards supporting partners like Murthy, who are hard at work all around the globe to save wildlife.
Murthy works in the Eastern Ghats, located in Southern India, to improve relationships between humans and snakes, and build local community support for snake conservation. Fear and lack of knowledge about snakes has led to a rise in the killing of many snake species, including the king cobra. Murthy and his team are working to transform the fear of snakes into a respect and appreciation for the important role that snakes play in the ecosystem. Snakes are an important species to control rodent populations that spread deadly diseases.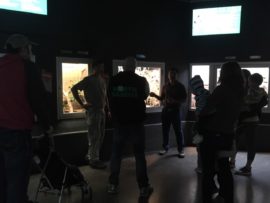 While in town, Murthy was able to spend a great deal of time with the herpetology team, learning more about husbandry for snakes and reptiles. Simply put, husbandry refers to the handling and care of different species. This is an important skill to have when working with any animal, and good husbandry skills are essential when handling venomous snakes. Murthy and the team were also able to brainstorm ideas on building local community support for snake conservation; a priority for Murthy's project and something our herpetology team strives to do for snake species native to Texas.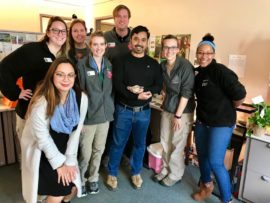 Murthy also had the opportunity to talk with guests during keeper chats at the reptile house, as well as presenting his work to zoo staff and meeting with the conservation education team where he discovered their resident snake! Getting to spend time within all different sections of the zoo was extremely important to Murthy, and he is very excited to take what he learned here back to India: "The exposure visits for conservation partners are incredibly useful not only to exchange information, but also better understand the role of zoos in conservation. It will benefit our field projects as well through interactions with various sections in the zoo and tailoring those learnings to apply in local conditions back home."
If you didn't have the opportunity to meet Murthy, don't worry – Fox 26 came to interview him and the herpetology team! You can watch the interview here:
To keep up with Murthy and is team follow the Eastern Ghats Wildlife Society on Facebook, and don't forget to drop by the reptile house on your next visit to the zoo to see our king cobra – the species Murthy is protecting in the wild!