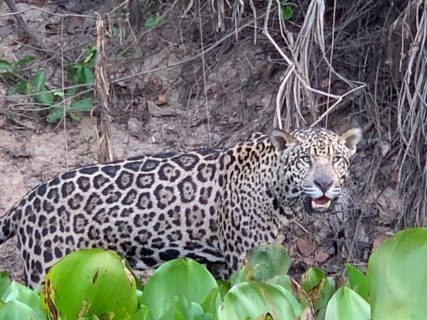 This week, we brought the KPRC 2 team on a one-hour flight to the Rio Cuiabá and Rio Três Irmãos in Porto Jofre to look for a few more "giants" the Zoo is helping to protect in the wild before we head back to Houston: the Giant Otter and the Jaguar, the largest cat in North, Central, and South America.
Jaguars are an elusive predator and are found in varying habitats, sometimes overlapping with people. They are involved in a lot of conflict with ranchers across their range and are often blamed for killing livestock with retaliation often involving the death of a jaguar. Due to this perception, hunting and habitat loss jaguar populations have decreased, but tourism is revealing that jaguars are a real value to the country.
That is why we are here in Porto Jofre where tourism and the dollars it brings are protecting jaguars, giant otters, and every other species that live in this region. People come from all over the world to view wildlife here. If you want to see a jaguar, this is the place to come to!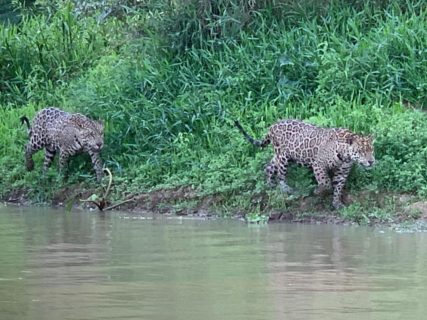 Our guide told us that there are 120 known individual jaguars along these rivers and their tributaries. That is an extremely high density for a top predator but to support the jaguars there is also a high density of capybara (the world's largest living rodent) and caiman. Jaguars in this part of the Pantanal are caiman specialists as they grab them on the banks or dive into the rivers after them. Jaguars are one of the few cats comfortable in water and are also good swimmers.
Our adventure heading upriver to find these shadow cats started after our plane ride and we headed out at 1:30 p.m. first coming across yellow anaconda, a family of giant otters, plenty of birds, capybara, and caiman. And as surreal as it may seem, 90 minutes later we were watching not one, but two jaguars walk and swim the riverbank looking for a meal. We spent the better part of another 90 minutes watching these four-year-old brothers, as well as watching tourism boats seeing them from a safe distance.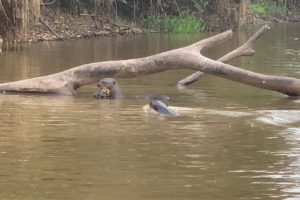 The Zoo is working with conservation partners to train local guides in Brazil to have giant otter and jaguar safe practices. These trainings ensure guides understand the various species behaviors and maintain appropriate distances that won't interfere their normal behaviors and will allow for the animal to thrive.
Every time you come to the Zoo to see our jaguars, Maya and Tesoro, you're helping us save their wild counterparts in Brazil.