Zoo News Blog
Texans Helping Texans: Whooping Crane Population Count is Rising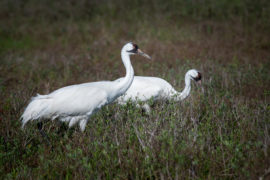 Have you ever seen a whooping crane up close? If you haven't, you will have the opportunity to do so soon with the Zoo's new Texas Wetlands exhibit opening in the heart of the zoo! Standing at nearly 5 feet tall, with a 7-foot wingspan and bright crimson red accents on the top of their head, the whooping crane is hard to overlook. In fact, a history of human fascination with whooping cranes has been both a gift and a curse for this remarkable species. In the 1800s the whooping cranes' beautiful feathers were used as fashionable additions to clothing, and rare eggs were sold to collectors willing to pay top dollar. The whooping crane saw its numbers drop to just 15 in the early 1940s, which led to the implementation of land protection efforts and public education initiatives geared toward saving this beloved bird. Decades later, whooping cranes are loved not for their feathers, but for their courtship dances and their annual migration to Port Aransas, Texas – the only place where you can see the world's last naturally-occurring population of whooping cranes.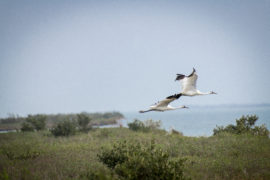 Thanks to zoo-goers like you, we have been able to support the International Crane Foundation's (ICF) efforts to increase the number of whooping cranes in the wild, and we are excited to report that their numbers are on the rise! Surveys conducted over the 2017-2018 winter season concluded that the number of wild whooping cranes has increased to 505, up from 431 the previous year. Its been a long journey for our feathered friends, and while things are looking up, we still have a long way to go. The Houston Zoo recently teamed up with the ICF's Texas office and established a Whooping Crane Outreach Coordinator position that will be funded by the Zoo. This individual will form partnerships that include involving hunters, landowners and other members of the community in monitoring and keeping watch over the whooping cranes in their areas.
We are so proud to be involved in this work to help save this unique community of Texans, and thanks to your continued support, this native species has an even better chance for a bright future. For the 11th annual Wildlife Conservation Gala at the Houston Zoo, we're shining a spotlight on the species and habitats of the Lone Star State! We'll come together as Texans to raise the funds our Zoo needs to keep saving Texas wildlife like the whooping crane.
Educators looking for a fun way to share information on these wildlife saving efforts with your students are encouraged to join us at our next Educators Night Out to participate in hands-on STEM activities that cover whooping cranes and other Texas wildlife.