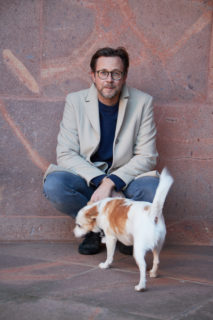 Join us at the Houston Zoo on Tuesday, November 5 at 4:00 p.m. for a special event hosted in conjunction with the Houston-Leipzig Sister City Association.
German author Carl-Christian Elze will be reading excerpts from his book "Oda und der ausgestöpft Vater" or "Zoo Stories: Oda and My Stuffed Father" as translated by Bradley Schmidt. Oda was a lion at the Leipzig Zoo who was loved by many and gave birth to 45 cubs.
These short stories tell what it was like for Elze to grow up with animals at the Leipzig Zoo, where his father wa s head veterinarian. Like the Houston Zoo, the Leipzig Zoo is accredited by the World Association of Zoos and Aquariums (WAZA) and works to save animals around the world.
The reading will take place at 4:00 p.m. in the Brown Conservation Education Center Auditorium, with a Question & Answer session to follow. This event is included in general admission.