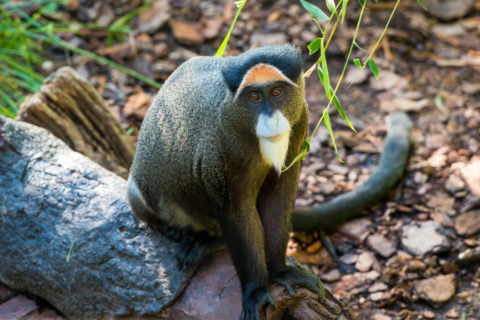 While we celebrate holiday cheer, we should save some celebration for Monkey Day on Saturday, Dec. 14. The Houston Zoo houses 73 primates and 19 different species. A majority of the primates can be found in Wortham World of Primates (WWP), and you can spot a few other species in Natural Encounters building and our African Forest.
WWP opened in 1992 and houses 14 different species of primates found throughout Africa, Asia, and South America. The wide variety of primates includes: monkeys, apes, lemurs and more. The diverse collection allows visitors to see how different each species is with their language, such as chirps and facial expressions, and culture. The youngest resident of the WWP is 6-month old Jack, a Schmidt's Red-tailed monkey, and the oldest monkey is 26-year-old Troi, a Patas monkey.
While Monkey Day recognizes all primates, it's important to note that monkeys differ from apes. The major difference between the two is that monkeys have tails and apes do not. Monkeys are extremely intelligent and curious animals, which helps them find most of their food. They are described to have big personalities, that are unique to them as individuals. While it's important to recognize all primate residents at the Houston Zoo, there are just too many of these adorable creatures to showcase.
Allen's Swamp Monkey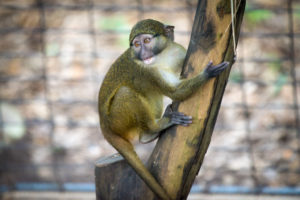 Swamp monkeys love the water and are excellent swimmers due to the webbing between their fingers and toes, which is how they received their clever name. The Swamp monkey can be found throughout Central Africa typically around riverbanks.
Naku, male, and Calvin, female, can be seen enjoying puzzle feeders and different paper products as types of enrichment. They are very intelligent and enjoy taking things apart. You can often see Pepper, the female infant, playing with the Red-tailed monkeys that also share the same habitat.
Patas Monkey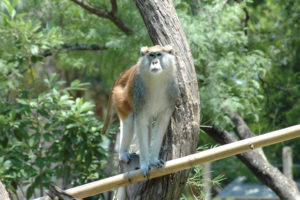 Patas monkeys can be found around parts of Western and Eastern Africa. Patas are quieter than most forest monkeys primarily to avoid predators; however, if danger is near Patas can run close to 35 MPH to escape, making them the fastest of all primates.
There are multiple groups of Patas at the Zoo totaling to five monkeys, two males and three females. You can differentiate the males from the females because of the significant size difference and brighter appearance. The male Patas are the largest monkeys at the Houston Zoo.
Black Howler Monkey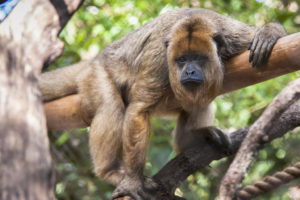 Howlers can be found throughout Central South America particularly in forests with diverse species of plant life to supply their dietary needs. Wild Howlers can be found high in the trees, where they spend 80% of the day resting.
This is the only species of monkey at the Houston Zoo with a prehensile tail, meaning the tail can be used to hold onto things. Sisters, Vida and Garcia, have lived at the Zoo their entire lives and can be found napping or enjoying enrichment, they love mirrors!
Golden-headed Lion Tamarin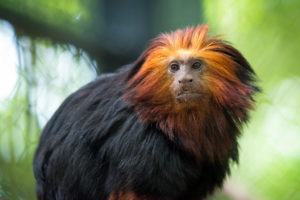 You can identify the Golden-headed Lion Tamarins from the other monkeys because of their brightly-colored golden hair around their heads. The golden hair is a result of exposure to sunlight; without it their coat is blond. The Golden-headed are considered the largest of the Tamarin species.
These monkeys have claws instead of nails like other primates; helping to stabilize on small branches and aiding the monkeys while they travel. When in danger, this Tamarin raises its brilliant mane and fluffs up its fur to give the appearance of being bigger, all while flicking its tongue at the enemy to scare away. The pair of Tamarins, Marcos and Serafina, love worms and enjoy digging them out of puzzle feeders. Marcos stands out because of his very short tail that he lost as a little kid, but that doesn't slow him down!
De Brazza's Monkey
De Brazza's monkeys can be found in Central Africa. They are primarily herbivores and often store food in their cheek pouches for later consumption. They are the one of the least vocal of monkeys found in Africa and Asia. They often communicate primarily through visual means, hence their colorful and expressive faces.
On Dec. 14, learn more about monkeys, specifically the De Brazza's monkey, at Meet the Keeper Talks, presented by Phillips 66, located at the De Brazza's monkey habitat at 12:00 p.m. and 3:30 p.m.
Check out the lively and diverse species of monkeys located at the zoo this Monkey Day. By visiting the Houston Zoo to see our wonderful groups of monkeys, you can help save monkeys in the wild.