Houston Zoo's SMG (Social Media Guy) is on the trip of a lifetime to Borneo!
From Dec. 1–11, 2017 the Houston Zoo and Houston's KPRC Channel 2 are traveling to southeast Asia and the island of Borneo to document the work you are supporting to protect the counterparts of the wildlife that you see when you visit the Zoo. Houston Zoo conservation associates who have dedicated their careers to protecting elephants, orangutans, pangolins and a whole host of other amazing species on the world's third largest island will give us an in-depth look at what it means to save species from extinction. 
Here is some reporting from the field:
Sunday afternoon: After four flights and days of travel, we arrived in Sandakan and met the team that would take us to the field centre. We got in a van and drove two hours to a dock where we loaded everything on boats and started on our boat trip down river to DGFC.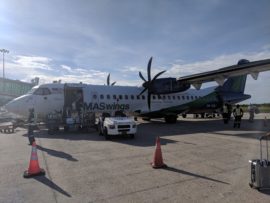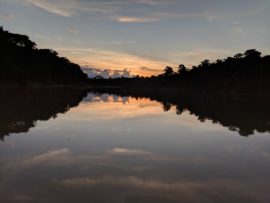 Sunday night: The sun had set as we started our boat ride, which was supposed to take about 30 minutes. As the moon rose over the jungle, we noticed our feet were wet. Water in the boat. Our boat driver stopped a few times to scoop water out of the boat but as soon as we started driving again water was filling up the boat. While I was pretty confident everything was going to be fine, for a moment, I was overtaken with the thought of swimming through a river infested with crocodiles in the pitch black night. To be sure that didn't happen, I volunteer to bail water out of boat so our driver could continue down the river. I'm happy to say we made it safely and we were happy to be on dry land. We settled into our rooms and quickly fell asleep, happy to be done moving.
We've created a special webpage to follow their exciting journey around the world, go behind the scenes, and learn more about how we can all save animals in the wild. Follow along with SMG!