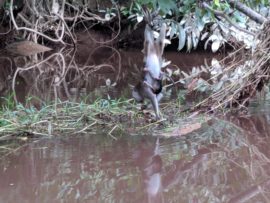 Thursday: We are finishing up our time here in Borneo. This afternoon, we went for a boat ride to visit a tree planting project run by Hutan. It's an all female run project and these women are doing great work to reforest a large tract of land that was previously clear-cut but a palm oil plantation. In the evening we toured a small tributary to survey wildlife and we came across a family of long-tailed macaques that were eating on a branch overhanging the water. We stopped to enjoy the view for a bit and then headed back around sunset.
Houston Zoo's SMG (Social Media Guy) is on the trip of a lifetime to Borneo!
From Dec. 1–11, 2017 the Houston Zoo and Houston's KPRC Channel 2 are traveling to southeast Asia and the island of Borneo to document the work you are supporting to protect the counterparts of the wildlife that you see when you visit the Zoo. Houston Zoo conservation associates who have dedicated their careers to protecting elephants, orangutans, pangolins and a whole host of other amazing species on the world's third largest island will give us an in-depth look at what it means to save species from extinction.
We've created a special webpage to follow their exciting journey around the world, go behind the scenes, and learn more about how we can all save animals in the wild. Follow along with SMG!