Zoo News Blog
Shark conservationist receives education training at the Houston Zoo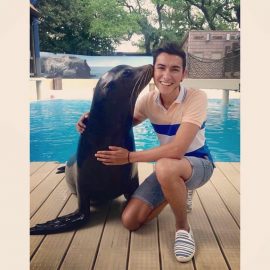 Shark conservationist, Alerick Pacay, Program Coordinator at Fundación Mundo Azul, a non-profit conservation organization, based in Guatemala, received conservation and education training at the Houston Zoo.  Alerick had participated in a video conservation messaging workshop Houston Zoo staff held in Belize last year for marine conservation organizations.  He and his organization,  reached out to Houston Zoo staff when he learned more about the Houston Zoo's conservation and education programming.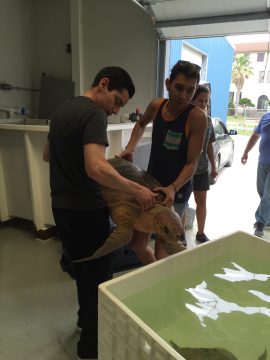 Fundación Mundo Azul main goal is to protect the ocean.  Alerick works with local fishermen to monitor the 30 species of sharks in Guatemala and spends much of his time inspiring visitors to the Guatemala Zoo and local communities about the importance of protecting sharks.  He educates his audiences about the importance of sharks and other wildlife in the ocean and how they can save this wildlife by reducing their plastic use.  Plastic and other trash in the oceans is one of the biggest threats to marine life.
The training he received provided him with the knowledge to increase his impact with his audiences.  Our staff also learned a tremendous amount from Fundación Mundo Azul's programs.
Along with training at the Zoo, he also got to accompany our staff and our partners at NOAA in some sea turtle protection work in the wild.  He assisted with rescuing a very big loggerhead sea turtle in Galveston.
We are so grateful for all of the work Fundación Mundo Azul and Alerick are doing  to protect our oceans and save marine animals.  Alerick would like all readers to know that you can help us all save animals like sharks by saying no to straws.  Millions of straws end up in the oceans and they can be harmful to marine animals when they mistaken them for food.  You can purchase medal straws here http://www.amazon.com/gp/aw/d/B00KGIANQ2/ref=mp_s_a_1_1?qid=1463519716&sr=81&pi=SY200_QL40&keywords=metal+straws&dpPl=1&dpID=413ApCH1pZL&ref=plSrch and carry one with you, if you don't want to go without.