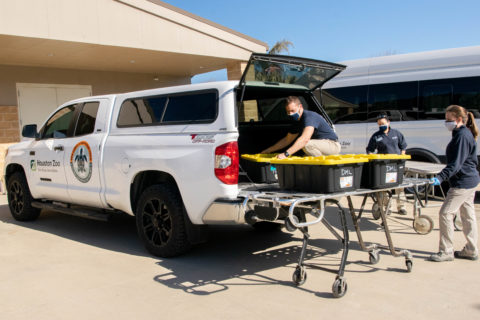 Last week, as Texas experienced unprecedented freezing conditions from Winter Storm Uri, 37 endangered green sea turtles were rescued along the Texas coast, near East Matagorda Bay and Galveston Bay. Sea turtles are cold-blooded and rely on heat from their environment to maintain their body temperatures. During the winter months, sea turtles are susceptible to being "cold stunned," which means they become lethargic and are unable to swim when water temperatures drop rapidly. Many of these turtles will suffer from pneumonia and other medical conditions.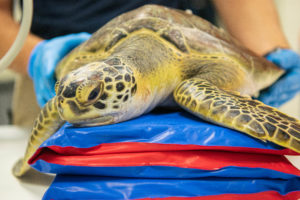 Working with our partners at Texas A&M Galveston, the Houston Zoo's veterinary staff are responsible for overseeing the care and treatment of all wild sea turtles that are found from the Louisiana border to Matagorda Bay before they're able to be released back into the wild.
After evaluating the turtles, 25 of the recovered sea turtles were released back into the warmer waters in the Gulf of Mexico on Monday, Feb. 22. As part of the criteria for being released back into the wild, they must pass a swim test first. 
On Tuesday, Feb. 23, 11 of the rescued sea turtles – that are not ready to be released back into the wild yet – received a more extensive physical exam from our vet staff, as well as radiographs, bloodwork, and antibiotics. Performing a more in-depth exam will allow them to look for infections, signs of organ damage, electrolyte abnormalities, and more.
Combined with all of the other sea turtles found along the Texas coast, from Galveston to South Padre Island, this is being reported as the largest recorded cold-stunning event for sea turtles in Texas history.
People are urged to call 1-866-TURTLE-5 if they find or accidentally catch a sea turtle so that an expert can assess the turtle and provide care if needed.