The Houston Zoo is working toward creating the next generation of saving wildlife heroes. One way we are achieving that goal is by forming lasting partnerships with school groups in and around the Houston area.  These partnerships all look a bit different from one another, but they all have one thing in common: they are inspiring students, teachers and communities to take action to save wildlife!  Ridgecrest Elementary is an example of one school that is partnering with the Houston Zoo to save pollinators through our Pollinator Partnerships.
The partnership between Ridgecrest Elementary and the Houston Zoo started when Ms. Lindsey Duke came to one of our Educator Events. "It all started when I attend my first Educator's Night Out at the Houston Zoo.  I was so intrigued at what I experienced there and I knew that I wanted my students to experience the same" stated Ms. Duke.  During the event, she learned more about the importance of pollinators, the threats they are facing, and how her students can help.  She decided to reach out to DeAndra Ramsey from the Houston Zoo and start the process of forming a partnership centered around helping pollinators.
"Teaching kindergarten at a new campus I was a little nervous at how the initial pitch of the partnership and garden project would go but it was received with full support from administration and staff. We selected a spot on our campus that had once been a garden but had a lot of potential to be transformed into a pollinator garden", says Ms. Duke.   In addition to picking the place for the garden and choosing the native plants that will be planted, the students have been learning about how a healthy pollinator population is vital to a healthy ecosystem.  Ambassador animals that are native to this area of Texas have been brought to the campus so that the students can see first-hand the animals they are helping with their work in the garden.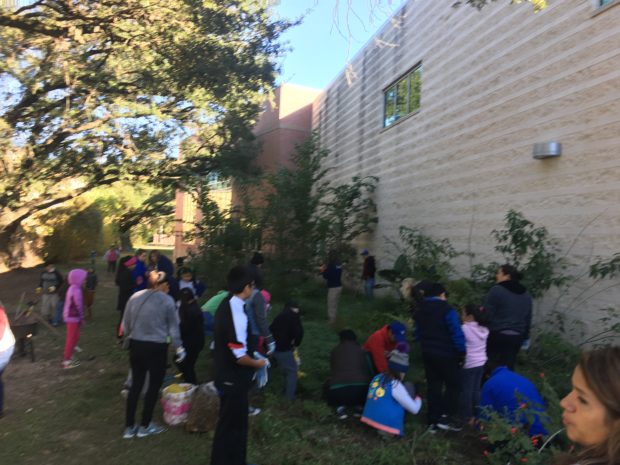 But it doesn't stop in the classroom! "My goal was to make this not only a school wide project but also a community/family project.  So we had our first Ridgecrest Elementary Garden Day.  We invited families and community members out to our campus one Saturday and together we weeded and prepared our garden area.  I was blown away but the participation this event received.  To see so many families working together was amazing", says Ms. Duke.  The Houston Zoo was able to attend the family gardening day and work side-by-side with the students and their families to transform this space into a wonderful pollinator habitat.  Starting a pollinator garden has multiple benefits, including connecting children to nature.  Preparing the space allowed families to get up close and person with a variety of Texas native wildlife such as frogs, snakes, and lizards.
As anyone who has started a garden knows, it does not happen overnight. "[We] have continued to work step by step slowly but surely transforming the garden into a space not only for pollinators to come and feast but also a learning spot for all ages.  The students along with their families have designed garden stones which we will use to trim the garden areas.  We painted reading stumps so that classes can go out and observe, write and learn in the garden.  Currently we are holding a coin drive to purchase pollinator plants for the garden and plan to have another Garden Day this spring", Ms. Duke reported in January.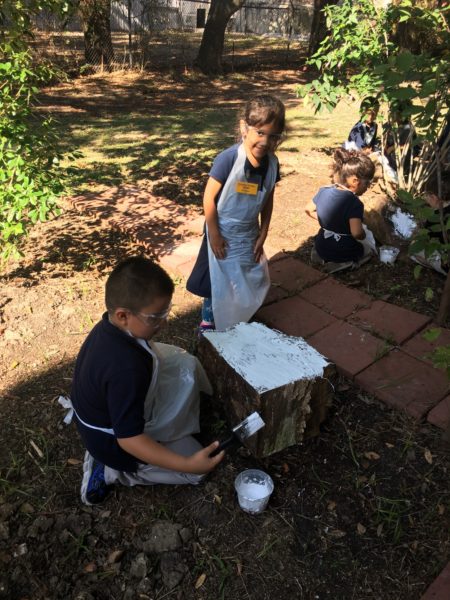 Through the partnership between Ridgecrest Elementary and the Houston Zoo, the students are making connections with the natural world around them. They are taking action to save wildlife in their very own back yards and becoming wildlife heroes.  "None of this would be possible without our Partnership with DeAndra and the Houston Zoo.  Our students have had so many opportunities already in the first year of this partnership.  They have had ambassador animals come to the school and they have begun to learn about conservation of resources and species.  To hear them randomly throughout the day talking about things connected to our project is so encouraging", says Ms. Duke.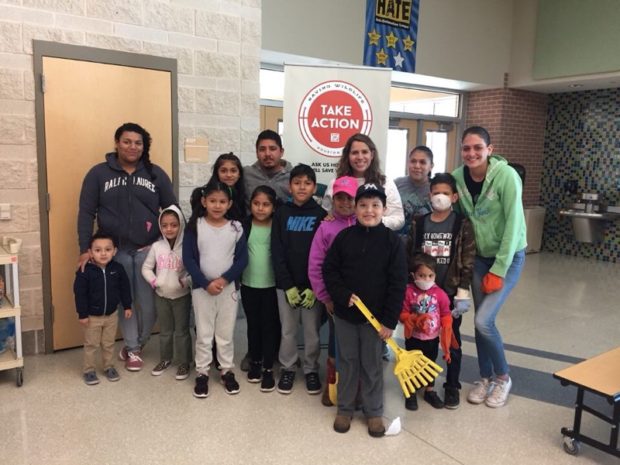 Ridgecrest Elementary has been a shining example of a school that is taking action to save wildlife. Ms Duke's passion and dedication has inspired the students through out the school to work together to save pollinators and empowered them all to make a difference in their communities.