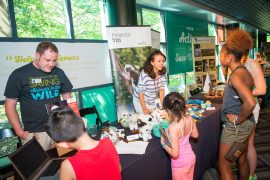 If you love lions, swoon for sharks, are zany for zebras or just adore all animals, the Saving Wildlife Expo is the place to be Saturday, March 25.
The Houston Zoo and the Wildlife Conservation Network are once again partnering to host the Saving Wildlife Expo at the Houston Zoo on March 25 inside the Brown Conservation Education Center.
As a zoo-based conservation organization, the Houston Zoo knows that animals will be saved from extinction through strong wildlife partnerships, which is why the zoo's main conservation focus is in building strong partnerships around the world with groups that have likeminded purposes. One such organization is the Wildlife Conservation Network (WCN) with which the zoo has partnered for the past seven years.  WCN provides a supportive platform for conservation leaders all over the globe.  They save wildlife by helping independent conservationists build connections and create strong, sustainable plans for their organizations.
Together with WCN, the Houston Zoo will host the Saving Wildlife Expo at the zoo on March 25. At the ticketed event, five of the world's strongest community-based conservation leaders will give presentations and interact with guests at this full-day expo.  Each leader will share stories and successes, as well as highlight threats that zoo guests can help mitigate through simple actions.  There will also be a host of conservation organizations exhibiting for the entire day.
The speakers for the Saving Wildlife Expo have dedicated their lives to saving animals from extinction.  They all lead conservation programs that protect the wild counterparts of the animals represented at the Houston Zoo. Tickets start at $34 for members and students and can be purchased on the Houston Zoo website.
Speakers and their organizations include:
Grevy's Zebra Trust – Kenya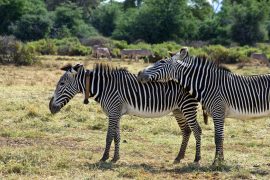 Belinda Mackey runs the Grevy's Zebra Trust (GZT) in Kenya. GZT is a conservation organization in El Barta, the northern region of Kenya that seeks to protect grevy's zebra by finding solutions for local people to live peacefully with wildlife. Zebras rely on the same resources as the local people and provide an essential balance in the African landscape. GZT empowers local communities to protect these animals from extinction through monitoring programs.
At the Houston Zoo, guests can see two Grant's zebras at the rhino habitat in the African Forest.
---
Niassa Lion Project – Mozambique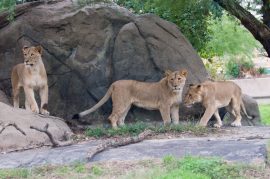 Niassa Lion Project Founder, Dr. Colleen Begg along with her husband Keith Begg and a team of local Mozambicans are working to conserve lions and other large carnivores in an immense wilderness called Niassa Reserve in northern Mozambique. Niassa National Reserve is home to one of only five healthy lion populations left on the continent. Niassa Lion Project's strategy for helping lions in the wild is twofold: first, researchers track and vaccinate lions to help support population growth. Second, they work with locals through community outreach and education on how to safely live with lions.
The Houston Zoo is home to a trio of lion sisters, Nimue, Mattie and Uzima. The pride is a part of a yearly Lion Fun Day celebration that takes place both at the Houston Zoo and in Mbamba village in Mozambique, hosted by the Niassa Lion Project as a way to connect communities and wildlife.
---
MarAlliance – Central America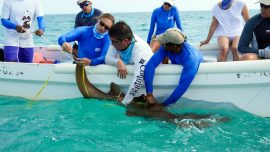 The Houston Zoo is proud of all the work done to protect the animals in the waters along the Texas coast as well as around the world. Fascinated with the sea from the early days of growing up in Tunisia, MarAlliance founder and Executive Director, Dr. Rachel Graham has worked for nearly two decades with fishers and partners in several countries to identify threats and research needs and conservation opportunities for threatened marine wildlife and their habitats. MarAlliance is a community-based conservation organization that works with communities to protect ocean wildlife such as sharks, rays and sea turtles. Based in Central America, they employ local fishers to engage in wildlife monitoring and protection efforts and work closely with the government and other conservation organizations.
Houstonians can help protect ocean animals by using reusable water bottles instead of single-use plastic bottles.
---
Tapir Specialist Group – Brazil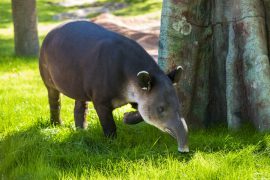 The Houston Zoo is home to three beloved Baird's tapirs and staff members assist organizations that aim to protect tapirs in the wild. As Chair of the Tapir Specialist Group, Dr. Patricia Medici launched the Lowland Tapir Conservation Initiative in Brazil aimed at establishing tapir conservation programs in all areas where tapirs live, specifically the Pantanal. The goal is to help researchers determine the effects that large animals, such as tapirs, have on their habitats and the other animals living around them.  This will help to design plans to prevent the disappearance of these animals.
---
Bat Conservation International – Texas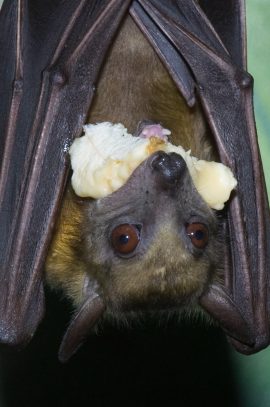 The Houston Zoo has three species of bats, two in Natural Encounters and one in the John P. McGovern Children's Zoo. Bats are incredibly important animals, as they are pollinators. Pollinators are responsible for up to 30% of what we eat! Dr. Cullen Geiselman is a bat researcher and conservationist. Her research focuses on seed dispersal and pollination by bats. She has coauthored a book with botanists from the New York Botanical Garden entitled Seed Dispersal by Bats in the Neotropics. A former Bat Conservation International staff member, she currently serves as the Chair of the Bat Conservation International Board of Directors, she serves on the Board of Directors for the Houston Zoo and many other organizations around Houston.
Every visit to the Houston Zoo helps save animals in the wild.  This expo will connect guests with some of the top conservation leaders in the world and help Houstonians learn what simple actions they can do to help save animals from extinction.