Chris Holmes, Houston Zoo Assistant Curator of Birds, recently received two prestigious awards from the AZA (Association of Zoos and Aquariums, the organization responsible for accrediting zoos) for his conservation work with critically endangered blue-billed curassows. He is featured as a conservation hero for his work with these birds in National Geographic photographer, Joel Sartore's new book, The Photo Ark: One Man's Quest to Document the World's Animals.
Unique to Colombia there are only a few hundred left in the wild due to habitat destruction and hunting. One way to make sure blue-billed curassows don't go extinct is to make sure this species and its' genetic diversity is represented in zoos. This ensures that if the wild population decreases, there is a genetically diverse population that could possibly be released to bolster wild populations.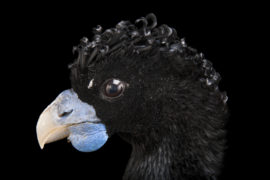 Zoos work together to determine which individuals have the most genetic diversity and then pair them together so they can ensure the long-term survival of the species. This is called a Species Survival Plan or SSP. Chris Holmes, manages the SSP for blue-billed curassows.
Blue-billed curassows are difficult to breed for several reasons, including how they choose their mate and having just two eggs per breeding season. The Houston Zoo has been involved with the efforts to protect blue-billed curassows since the late 1970s, with more than 50 blue-billed curassows born here.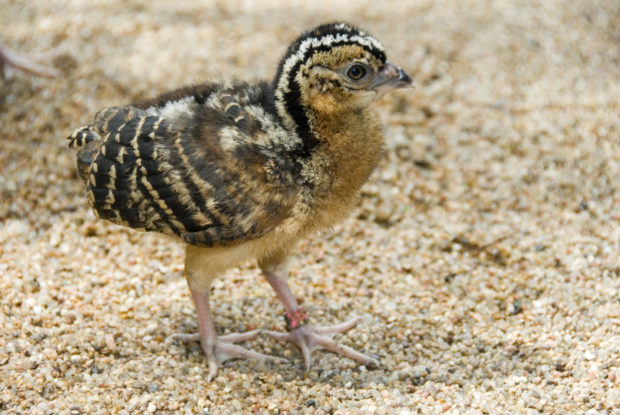 Chris and the Houston Zoo have partnered with the Colombian Zoo Association to save these birds in the wild through sharing knowledge gained from successful breeding efforts, providing the resources needed for a successful breeding program in-country, and collaborating in the creation of a five-year conservation plan.
Chris established 3 goals for his own work, "My first goal with working with the Blue-billed was to increase the AZA population. My second goal was to help with the Colombian population. My third goal became recording the international population so if needed captive bred birds could go back to Colombia." All 3 goals work to increase the number of blue-billed curassow available for possible reintroduction to the wild.
In January 2014, the National Aviary of Colombia became the first Colombian zoo to breed the blue-billed curassow in its native Colombia.
What can you do to help? Visit the Houston Zoo and see the blue-billed curassow for yourself. The more you appreciate and understand this bird, the more knowledge you can share with others. You can purchase The Photo Ark: One Man's Quest to Document the World's Animals in the Zoo gift shop. And when you visit, a portion of your membership and ticket goes to saving animals in the wild.