Every time you come see the Asian elephant herd here at the Houston Zoo, you are saving elephants in the wild. Read more to find out how!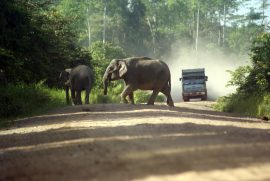 Elephants require large amounts of land to live and when that land is turned into farms or plantations, the elephants sometimes move through the crops to get to more habitat. "Elephants are not moving through palm oil plantations to raid crops but they are using it to reconnect to their surrounding habitat because the corridors that have been left for them are too small," says Nurzhafarina ("Farina") Othman, Houston Zoo elephant conservationist and researcher in Borneo. 
Borneo is an island in Southeast Asia that also has orangutans and a growing palm oil plantation industry.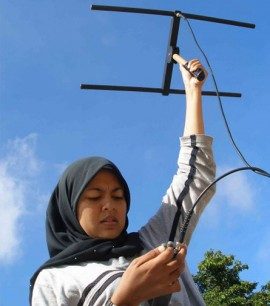 Farina is a Malaysian PhD Candidate whose fieldwork is based gaining a better understanding of Bornean elephant habitat needs. She is studying the elephants' migratory patterns through the Kinabatangan River range. Land use and development are extremely important in this region and Farina's study is helping local communities and government agencies reduce the conflict surrounding elephants needing to cut through local crops and plantations to get back to the river. She is working with palm oil plantations to find solutions for wildlife as well as helping with the Borneo tourism industry of which elephants are a large draw for the local economy.
You are helping Farina save Bornean elephants through memberships and admissions tickets, as a portion of each goes directly to protecting elephants in the wild.