Zoo News Blog
Recycle Electronics with the NCAA Final Four, Save Gorillas, Get Tickets to Fan Fest!
Recycle your electronics with the NCAA Final Four on Sunday, March 13, from 1 p.m. to 6 p.m. at Discovery Green, and help save gorillas! Recycling your electronics helps save wildlife like gorillas and chimpanzees who live in habitats where electronic materials are mined. By reusing our materials, we ensure their habitat is protected.
There are more than 250 million cell phone users in the United States alone and the average lifespan of a cell phone is 18 months. That means there are A LOT of cell phones being produced to meet our demand. Each cell phone requires specific metals to be manufactured. One material used in cell phones, tantalum, is found in Central Africa — a rain forest home to animals like chimpanzees, gorillas, okapis and mandrills. If we recycle cell phones and other electronics like cameras and laptops, the materials taken from wildlife habitats can be reused, allowing those habitats to be protected.

Everyone who recycles items at this event will be entered into a chance to win a gorilla tour at the Houston Zoo! The tour is good for 5 people over the age of 12. Tour must be redeemed by September 30th, 2016. Tour available T/TH/SA/SU.
In cooperation with NCAA Corporate Partner LG Electronics USA and EPC (Executive Personal Computers), a FREEElectronics Recycling Event will be held on Sunday, March 13, from 1 p.m. to 6 p.m. at Discovery Green in conjunction with the Selection Sunday Celebration. Those who bring their electronics for responsible will receive a FREE ticket to Final Four Fan Fest presented by Capital One.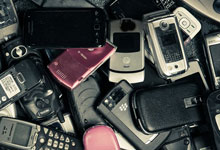 Items accepted: computers, computer components, home electronics, small home and office electronics, and gaming equipment.
Items not accepted: manifested hazardous, radioactive and bio-hazardous waste, devices that contain mercury or freon, large appliances such as refrigerators, washing machines, and dishwashers, as well as light bulbs and microwaves.
Please join the Houston Zoo, NCAA Final Four, LG Electronics USA and EPC in this important recycling effort. By recycling your electronics, you are ensuring wildlife like gorillas and chimpanzees are protected in the wild!
And don't forget, you can always recycle your small electronics at the Zoo's main entrance!