Zoo News Blog
No More Single-Use Plastic at Houston Zoo Gift Shops
Zoo Celebrates Plastic Free July with Announcement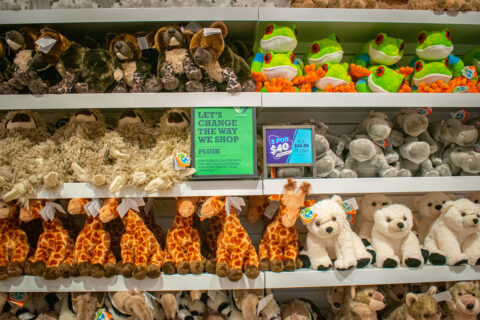 In alignment with the Zoo's wildlife-saving mission and celebration of Plastic Free July, the Houston Zoo today announced it has eliminated single-use plastic packaging in all gift shops and is the first zoo in the country to do so. Since 2015, the Houston Zoo and its retail and culinary partner, SSA Group, have taken steps to remove single-use plastics from the Zoo starting with shopping bags in 2015, followed by beverage bottles and straws. Now, in this next phase, plastic packaging is the focus.
The Zoo and SSA Group partnered to audit the gift shop looking for products containing single-use plastic, and worked with vendors to find alternatives, or make different choices. In some instances, manufacturers were encouraged to change packaging materials, or simply eliminate a superfluous bag.
"Eliminating single-use plastic packaging in our gift shops is just one more way we're helping save animals in the wild," said Colley Hodges, Houston Zoo's sustainability manager. "By partnering with SSA Group, we were able to look closely at our purchasing practices to make the best choices for animals, as well as use our buying power to influence manufacturers. We hope others who share our commitment to animals will follow suit."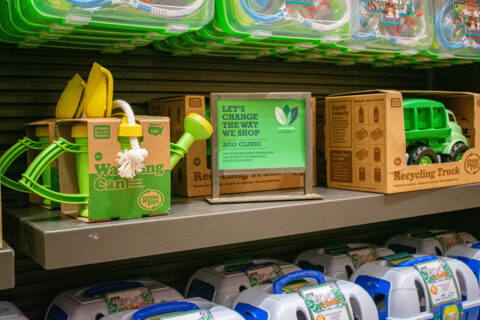 Single-use plastic items are typically used once, and can end up in waterways like bayous, lakes, and oceans if not contained properly. Animals like sea turtles may get entangled in a plastic item or mistake it for food, ingesting it and causing them to get sick. The Houston Zoo treats more than 100 wild sea turtles a year, some of them with plastic-related injuries.
"Our conservation teams continue to clean up plastic ocean trash that washes ashore to protect sea turtles and other wildlife on the Galapagos islands," said Houston Zoo Galapagos conservation partner, Lady Márquez of Ecology Project International (EPI). "We're so grateful for the Zoo's partnership and commitment to saving wildlife and reducing threats to animals in Texas and Galapagos."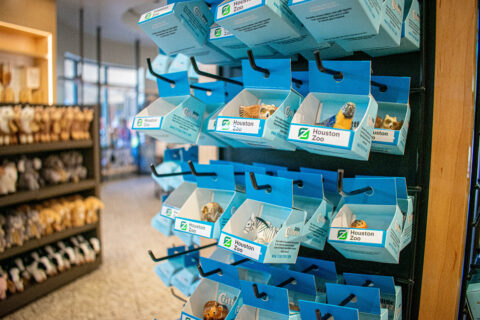 The Houston Zoo and SSA Group collaborated to ensure guests will likely not notice a change. Guests will still be able to grab a snack, find their next favorite t-shirt, and squeeze an adorable plush, but now without single-use plastic packaging. Compostable hangtags, and with some products, stickers or signs will now provide pricing information, and snacks will be in compostable plastic, like what can already be found in the Zoo's cafes. In addition, the gift shop was one of the first to change to 100% recyclable and renewable BPA-free receipt paper where trees are planted for every case used.
"We pride ourselves on providing quality, sustainable products and outstanding service to our Zoo guests, all while making a positive impact on the planet," said Andrew Fischer, the vice president of sustainability and conservation for SSA Group. "We are working to extend this practice into other facilities across the United States and know that together we can take action for wildlife."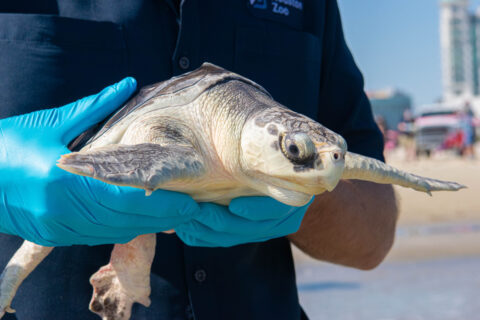 Guests to the Houston Zoo are encouraged to make small changes in their daily lives that can protect wildlife. From swapping to reusable grocery bags and water bottles, choosing recycled content paper, planting native plants, to recycling old cell phones and holiday lights, simple changes can save animals in the wild.