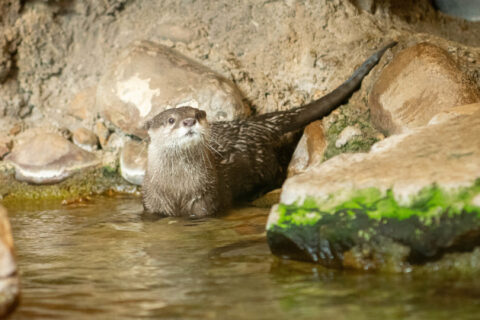 The Houston Zoo is happy to welcome Athena, a two-year old, female Asian small-clawed otter. This is the smallest species of otter, weighing less than ten pounds. Guests can see her splashing around in her exhibit, inside the Natural Encounters building, along with Danh Tu (Don-To), the Zoo's 11-year-old Asian small-clawed otter. Athena and Danh Tu began visual and auditory introductions on August 18 and bonded so well they were allowed in the same enclosure the following day and have been inseparable ever since.
Asian small-clawed otters are considered a threatened species and are also on the Association of Zoos and Aquariums Survival Species Plan® (SSP). The SSP programs oversee the population of select species within AZA member organizations and enhance conservation of this species in the wild. After observing their successful introduction, the Zoo is hopeful the pair will have offspring in the future. Asian small-clawed otters are monogamous and can have a litter of one to seven pups with both parents helping to raise the pups.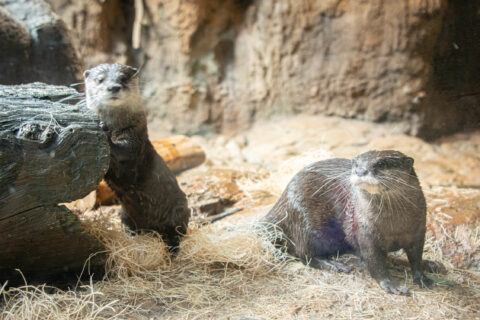 Asian small-clawed otters can use their paws with human-like proficiency and hunt primarily with their paws. They can also close their nostrils and ears to keep water from getting in when they swim. Their whiskers help them detect changes in water current and pressure.
There are several factors threatening their survival in the wild including over-hunting, pollution and habitat destruction. Guests can help protect small-clawed otters in the wild by visiting the Houston Zoo. A portion of each Zoo admission and membership goes toward providing support for efforts to reduce poaching by patrolling forests and rivers where wild small-clawed otters live and thrive in Borneo.