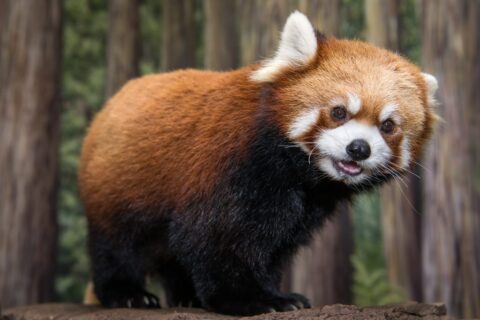 Li Ming, the Houston Zoo's 14-year-old female red panda, died Friday morning after animal care professionals found her unresponsive in her habitat. Li Ming did not display any signs of a serious medical condition and she did not respond to emergency intervention by the Zoo's veterinary team. After closer examination, it was discovered she had a complicated tumor in her chest and it is believed that caused her to pass away quickly and painlessly.
Li Ming came to the Houston Zoo in 2015 and joined her brother Také in their original home by the Carruth Natural Encounters building. In 2019, Li Ming and Také moved to an improved space in the John P. McGovern Children's Zoo, next to the Bug House.
While both red pandas shared similar adorable features, Li Ming had a much fuller and thicker tail with broader eyebrows. Li Ming enjoyed being most active during the early morning hours and could be seen lounging on tree limbs or curled up on top of her den box in the afternoons. She was well-loved by the animal care team and will be remembered by her love for training and her rambunctiously sweet nature.
Li Ming will be missed by the entire Zoo family.