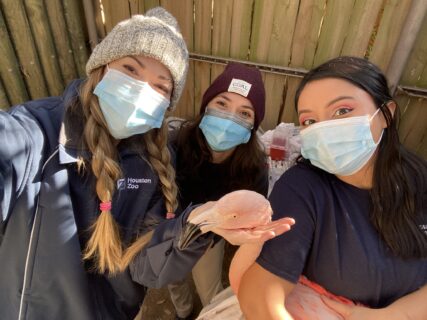 This week, we're celebrating Veterinary Technician Appreciation Week by highlighting the Zoo's four AMAZING vet techs! Some of their daily responsibilities include intubating animals and monitoring anesthesia, venipuncture and placing IV catheters, interpreting blood films, cytologies, and fecals under the microscope, taking radiographs, and filling prescriptions. Although you may not see them on Zoo grounds like other staff, they're an integral part of the team, playing an important role in providing exceptional animal health care.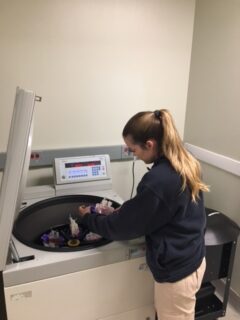 Meet Katie!
How long have you been a vet tech at the Houston Zoo?
6 and a half years
How did you start your career?
I started my career as a zookeeper at the San Antonio Zoo, then started working at a vet clinic and decided to go back to school to become a vet tech. After I graduated Cedar Valley College and got licensed, I started working here at the Houston Zoo as a vet tech.
What is your favorite thing about being a vet tech?
My favorite thing about being a vet tech is having the ability and skills to help animals feel their best. I am able to utilize my skills to help animals who are sick, get better and to do preventative medical care so that animals can live long healthy lives.
What's one thing people might not know about what vet techs do?
People might not realize the broad spectrum of skills that vet techs are trained to do and practice on a daily basis. We do everything from administering and monitoring anesthesia, collecting blood samples as well as reading those samples in the lab, we take full body radiographs, dental radiographs as well as dental scaling and polishing, we fill and dispense prescription medications and we attend various continuing education lectures to keep our licenses up to date.