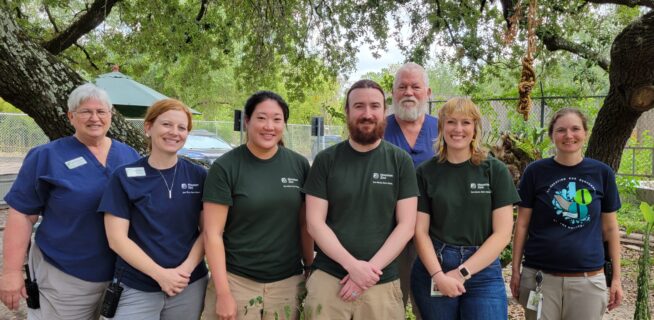 This summer, we hosted three veterinary students as part of our Summer Conservation Intern program. They worked alongside our veterinary and animal care teams to support three conservation programs here at Houston Zoo. Read more about each of our interns and the wildlife-saving work they helped with this summer.
Meet Kendra, Attwater's Prairie Chicken Intern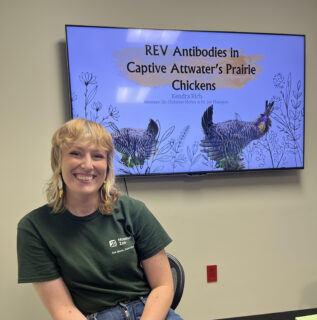 This summer I participated in the Intern Conservation Program at Houston Zoo. This opportunity allowed me to gain firsthand experience working alongside the keepers, technicians, staff, and veterinarians at the Zoo while devoting time to research in conservation. Under the mentorship of Dr. Christine Molter and Dr. Joe Flanagan, I dedicated my research project to diagnostic modalities of reticuloendotheliosis virus (REV) in the Attwater's Prairie Chicken (APC), an endangered species of grouse native to the Texas coastal prairielands, focusing on the antibody response of the birds to this virus.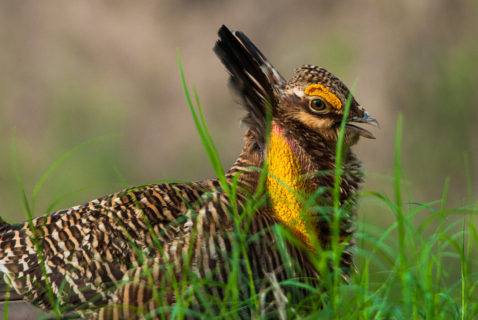 In addition to devoting my time to researching the APC this summer, I had the opportunity to observe and participate in the daily care and treatment of these amazing animals and see what a day in the life of a keeper in the bird department is like. I also had the opportunity to branch out and explore various other components of zoo life, including shadowing the veterinarians on their daily procedures and meetings, working with the elephant team, touring the grounds with the horticulture department, seeing the commissary for zoo animal nutrition, and observing technician training sessions with the carnivores of the zoo. This summer has provided me with irreplaceable experiences and lessons that I can carry on as I pursue my own career as a zoo veterinarian. I appreciate the welcoming arms Houston Zoo staff provided me during this internship, and I am inspired by the devotion the Zoo shows to support its native wildlife.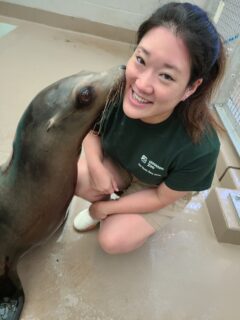 Meet Tiffany, EEHV (Elephant endotheliotropic herpesvirus) Intern
The first time I saw one of our professors at Tufts Cummings School of Veterinary Medicine put his arm in a cow during class, I wrinkled my nose and thought, "Large animal medicine is not for me." Yet a month later, when I unexpectedly had the opportunity to practice a rectal ultrasound in an elephant, I couldn't pull a glove on fast enough. I've had a blast during this internship getting exposure to many different aspects of animal care at a zoo. As the EEHV intern, I spent most of my time with Dr. Paul Ling's lab at Baylor College of Medicine to study a case of EEHV hemorrhagic disease in an African elephant. The disease has been known to afflict Asian elephants under human care and in the wild, but cases have risen among African elephants as well. My research involved learning how to use antibody assays that Dr. Ling's team has developed to better understand the disease process in African elephants. But fortunately for me, the noticeable farmer's tan I've acquired this summer didn't come from being confined solely to the lab.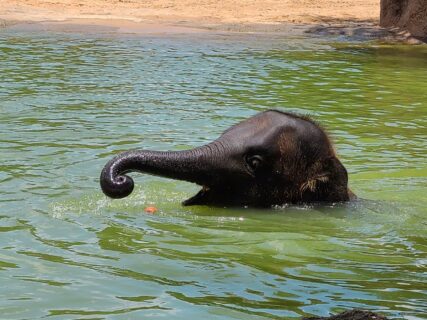 I've also learned how blood samples are collected and processed for EEHV monitoring, assisted with exams on a variety of animals, and of course, the highlight of my summer has been getting to know all 12 individuals of the Zoo's amazing Asian elephant herd. Shoveling poop every week in the Texas heat has been well worth it to watch the young ones chase after apples in the pool and to witness how painstakingly and lovingly the keepers take care of all the elephants. I am deeply grateful to have had the opportunity to work with these wonderful folks at Houston Zoo and Baylor College of Medicine. Their dedication to the health and well-being of these animals is inspiring, and their willingness to entertain my endless questions a testament to their generosity. This internship has reignited my passion for wildlife conservation, and I can't wait to be able to apply my skills as a veterinarian in this field.
Meet Nick, Houston toads Intern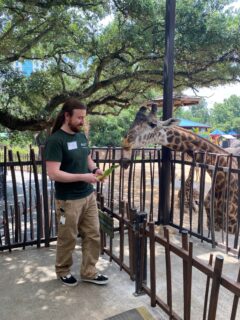 Through the Houston Zoo Summer Intern Conservation program, I spent an amazing 10 weeks at Houston Zoo, working closely with vets, keepers, and other Zoo staff on animal research and conservation. My research, alongside Dr. Maryanne Tocidlowski, was focused on the Houston toad, a critically endangered amphibian species that is local to Texas. The core of my research this summer was two-pronged and focused on effective blood collection techniques in such a small animal and on the best lab tests to evaluate kidney function when limited blood is available for analysis. Through our efforts this summer, we feel we have found a reliable blood collection method, through which we have been able to safely draw volumes of blood sufficient for lab testing. We have sent blood samples for kidney function evaluation, and are awaiting those results for the second arm of this research project.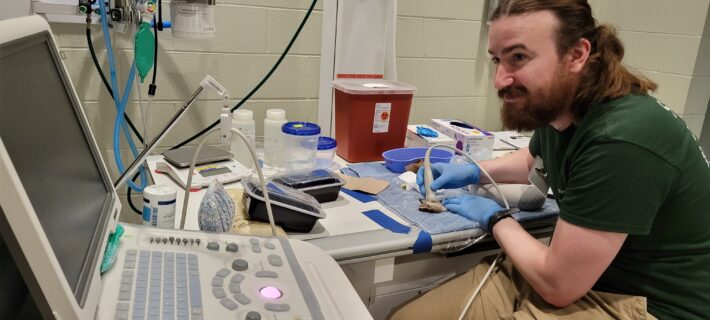 In addition to my work with the Houston toads, I had the opportunity to shadow the vets in their different roles around the Zoo, including working at the clinic, participating in rounds and meetings, performing exams and procedures, and monitoring the grounds. I was also able to participate in animal care with keepers in other areas of the Zoo, including working with elephants, apes, and herptiles. I'm grateful to the amazing team at Houston Zoo and for the opportunity to be a part of their mission.