Have you ever seen the SPARK team at Houston Zoo?  This dynamic team is waiting to engage, inform and entertain you every time you walk through the Zoo gates!
SPARK stands for:
Spontaneous interactions
Passionate staff
Awe and inspiring guest reactions
Relationship building
Keeping guests 1st
The team is made up of three amazingly creative individuals who interact with more than 120,000 guests each year.  Bennett Dones, interpretative program supervisor, has been with the team since it was created "before 2000."  Bennett can be seen weekdays at the Zoo.  He is constantly "roaming" around and his favorite interactions are those spontaneous moments with guests as he walks around the Zoo.  He loves to tell stories and jokes.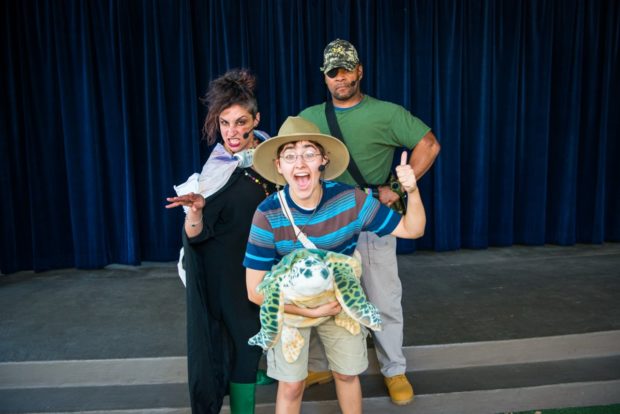 Sarah Fern rejoined the team in 2016 after spending a few years in a school environment.  She is here Wednesday through Sunday.  Sarah loves to surprise guests with carousel tickets or telling stories about our amazing elephant herd.
Celina Burgueño joined the team after graduating from college in 2017.  Celina loves performing various programs at the Houston Texan's Enrichment Zone where she can be seen leading a marching band or introducing guests to our animal athlete ambassadors. She can be seen on Thursday s through Mondays.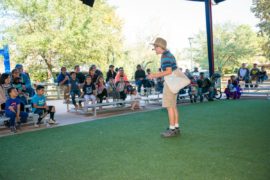 Every day, find Sarah, Celina or Bennett presenting some of their favorite animal ambassadors at the Conservation Stage and other locations across the zoo. Will you get to meet Charles the Chuckwalla, a Houston Zoo legend, or take a picture with Ernie, the North American porcupine? Whoever you meet, the SPARK team is sure to teach you all about your newest friend. As you walk through the Children's Zoo, stop by the Houston Texan's Enrichment Zone to catch the latest presentation. Daily programming may include a chance to meet some animal athletes, make some noise as you audition to become a member of the Houston Zoo Recycle Band, or even save the Zoo from trash villain Disastra at the Conservation League of Heroes. Any time throughout the day, you can catch the team on one of their daily storytelling walks, in front of a favorite habitat and ready to tell you all about the amazing animals that call Houston Zoo home. Wherever you see them, SPARK is sure to awe and inspire you with spontaneous programming for the whole family.