Happy Administrative Professionals' Day! We're spotlighting a few of the administrative assistants who support the Houston Zoo. Get to know them more below!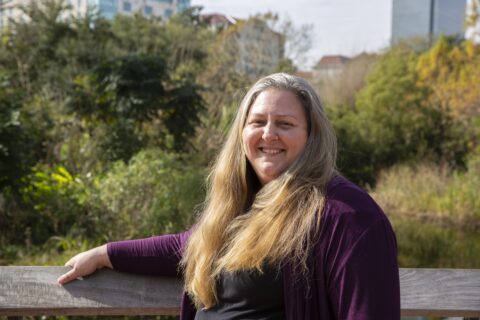 Meet Amy Blackmon
Amy has worn a few different hats over her 17 years at the Zoo. She has worked as a ranger (began part-time while in college), ranger supervisor, executive assistant, HR administrator, and now currently serves as the executive assistant to our president and CEO. Working at the Zoo means there is no typical day – every day is an adventure!
Amy shared that her favorite thing about working at the Zoo is the mission. It motivates her. We truly are connecting communities with animals and inspiring action to save wildlife. We could not do that without our amazing team. She loves our staff. We have a very dedicated team who believes in our mission. I live in Santa Fe and we have folks driving in from all over, as far as Galveston, Needville, and Conroe. That is commitment to commute that far and sit in traffic to come to work!
Outside of the Zoo, she has a very active life with four children (ages four to 15) in numerous sports and organizations (Scouts BSA, Cub Scouts, football, track, basketball, softball, t-ball) that keeper her busy! In addition to her kids' activities, she also volunteers on the Recycling Committee with the Houston Livestock Show and Rodeo.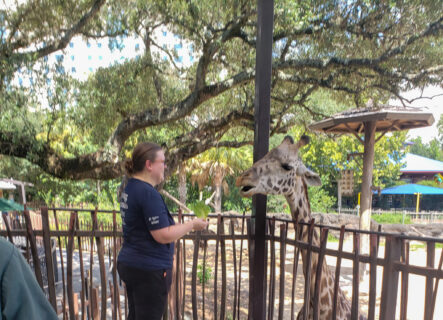 Meet Clare Green
Clare has been at the Zoo for almost a year and is an executive assistant to our senior leadership team. A typical day can vary for her depending on the time of year or what projects are going on. Her position includes a lot of calendar and information wrangling!
Clare's said a perk to working at the Zoo is getting to walk around every day and see animals. She also shared, "The people are also amazing – everyone has been so nice and welcoming to me in my first year here." "I've also really enjoyed getting to know more about the conservation efforts the Zoo participates in. I grew up in Houston and there's so much I didn't know about the Zoo before I started working here."
Clare's first "career" was actually in retail – she spent five years doing visual merchandising for Banana Republic before moving over to the nonprofit sector. Before coming to the Zoo, she spent over 15 years as a fundraiser for some of Houston's amazing performing arts groups, including the Houston Symphony, Houston Grand Opera, and DACAMERA.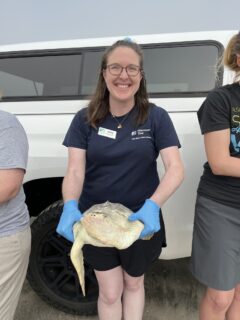 Meet Kelly McCreery
Kelly has been at the Zoo for 12 years. No day is typical for her, which she loves. Her position is primarily customer service-focused, so she answers phone calls and emails when guests have inquiries about the Conservation Education programs. She also supports her team internally in a variety of ways.
Kelly's favorite thing about working at the Zoo is how we connect with the community. Whether it's through our Camp Zoofari or on an outreach program, I love spreading the message of saving animals in the wild and inspiring others to save wildlife. Outside of the Zoo, she loves spending time with her husband, who has his own YouTube channel. They to explore outside, try new places to eat, and spend time with their puppy, Dolly.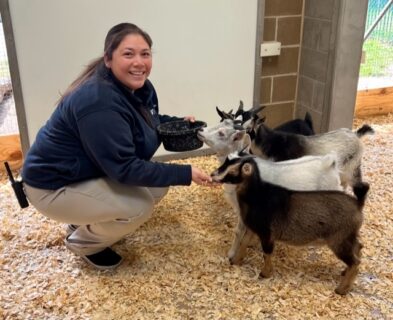 Meet Ruth Zavala
Ruth has worked at the Zoo for three and a half years in the Vet Clinic. A typical day for her includes handling most of the veterinary clinic's inventory for hospital and pharmacy supplies. She makes daily orders as needed and serves as a liaison between the clinic and vendors. Ruth also makes sure our hospital equipment is running effectively and kept up-to-date with certifications and inspections. Most importantly, I assist our Animal Health team with any and all requests to provide the best care to our animals.
Ruth loves that she doesn't have to be an animal expert to help save animals in the wild. Every skill set can contribute to our mission of saving wildlife. Outside of work, Ruth is passionate about helping support Trap-Neuter-Return (TNR) programs in the Houston area. She has successfully fostered 16 kittens so far.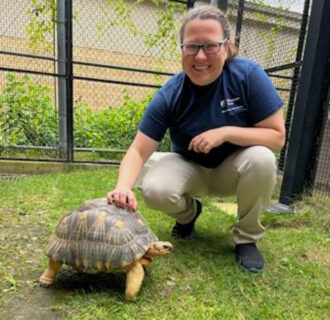 Meet Kathrine "Katie" Soloman
Katie has been at the Zoo for a year and also works in our Vet Clinic. On a typical day, she enters lab work results and other medical records, including ensuring we have the veterinary documents we need for animals that leave the Zoo. Katie also handles most of our package shipments, ensuring that samples are labeled and packaged appropriately and sending them off to diagnostic laboratories or other institutions. She also assists the Vet Clinic team with anything and everything they need.
Katie's favorite thing about working at the Zoo is getting a little glimpse into different parts of the Zoo's day-to-day, like knowing which animals are coming or going or when new babies are born. Everyone is always happy to share what's going on in their department and it makes you feel like you are a part of things even if you are not directly involved.
When she's not at the Zoo, she likes to do arts and craft projects and put together Lego sets.