In 2015, the Zoo established the Wildlife Warrior award program. Carefully chosen by the Zoo's Admissions team, this award recognizes exceptional individuals from our wildlife conservation partner programs and provides wildlife warriors with an experience that will increase their abilities/knowledge and grow them as future conservation leaders. We are excited to share that the Admissions team has just announced three new recipients for the 2018 year, that will join the ranks of 15 Wildlife Warrior alumni based in developing countries around the globe!
The 2018 Wildlife Warriors are from our partner projects all over the world saving lions, hirola antelope, and painted dogs. Here are this year's winners:
---
Maria Njamba: Painted Dog Conservation 
Maria Njamba is a mother of four children and resident of Hwange.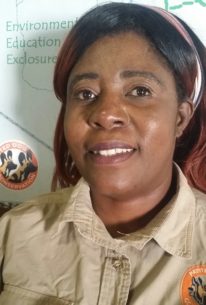 She is the Interpretive Guide at the Painted Dog Conservation Visitors Centre in Hwange. Before being employed by Painted Dog Conservation,  Maria relied on selling baskets by the road in order to make enough money to care for herself and her children.
Her life and her children's lives changed when she was offered a job at the Bush Camp. She thought she was one of the luckiest people alive and grabbed the opportunity with both hands. Her job was the help take care of the children, feed them and make sure they were safe and happy. In her free time, Maria would learn more and more about the dogs because her main interest had become educating people about the dogs and the importance of conserving them.
Because of her passion, she became the first Interpretative Hall guide at our Visitor Centre. She has influenced or reinforced love for conservation of wildlife to more than 70,000 local and international visitors to Zimbabwe and more than 11,000 children from our Bush Camp have listened to her convincing voice as she recites the story of "Eyespot." A compelling story that depicts the challenges the painted dogs face.
"Maria was chosen for her influence and passion for spreading the conservation message to over 80,000 Zimbabwe visitors"
---
Celestino Dauda: Niassa Carnivore Project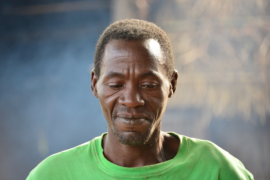 In 2006,  Celestino became one of the first of 5 Wildlife Guardians in our community monitoring and extension program. Working on a small stipend he never wavered from his work and has now been a wildlife guardian for 12 years.  In 2014, we promoted him to the permanent position as Head Guardian and he works tirelessly with Horacio (the program coordinator) to coordinate  and inspire the team of 35 guardians across  remote villages collecting information on human wildlife conflict, sightings of animals and fishing.  These guardians are our connection to the villages in Niassa Reserve and this work is critically important for our team.
Celestino enjoys his work  and believes it is very important as he is learning which animals are a big problem to communities so that he can help them. We asked Celestino what his advice would be for all of us. He says we must still keep fighting to promote the message that wild animals and people can live together. This is the only way forward. He lives it and breathes our mission which is to promote coexistence between wildlife, especially lions and people.
"Celestino was chosen for his long term commitment to inspiring a team of guardians and promoting coexistence between wildlife, especially lions and people"
---
Aden Ibrahim: Hirola Conservation Program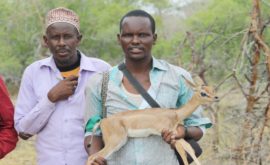 Aden comes from a nomadic culture – because herding was his primary focus as a child, he did not attend school. However, he wasn't willing to herd for long, and as such, escaped from his father's homestead to spearhead charcoal burning for almost seven years. In 2014, Hirola Conservation Program identified him as one of the people destroying wildlife habitats and subsequently recruited him as a ranger. Although illiterate, he has worked with us for the last 3.5 years and has risen through the ranks steadily. Today he is the Manager of Rewamo Conservancy (formally Sangailu) established and overseen by the HCP. He leads a team of 12 local rangers, where amongst his great achievements is the recent discovery of the previously unknown population of Oribi antelope. Further, because of their patrols, a total of 90 hirolas were counted within the conservancy in March 2018.
Aden continues to mentor youths to join conservation and has recruited a dozen of them so far who would otherwise be vulnerable to drugs, terrorism and cattle rustling activities.  Aden is hopeful about the future where he aims to expand habitat for wildlife (a problem he contributed to in the past).
"Aden (right) was chosen for his desire to expand habitat, creating a hopeful future for hirola and other wildlife"