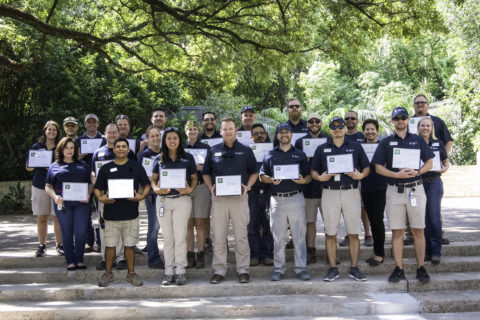 In 2017, the Houston Zoo published The Future of the Houston Zoo, a strategic plan that included among its eight goals Operate Sustainably to Benefit the Environment in order to meet the Zoo's mission of saving animals in the wild. A tactic identified to meet this goal was to have three (3) staff members LEED accredited. LEED, Leadership in Energy and Environmental Design, is the leading program for green buildings worldwide, and is administered by the United States Green Building Council (USGBC). The LEED rating system provides a framework for healthy, highly efficient, and cost-saving green buildings and can be used throughout all building phases including new construction, renovations, operations and maintenance. If three staff shared this expertise, they could help lead the Zoo toward a greener future.
The program took off in popularity and the Zoo far exceeded its goal! The Houston Zoo now has 24 employees across the Operations team who are LEED accredited, including carpenters, electricians, painters, horticulture technicians, water quality technicians, welders, and exhibit designers. Other accredited staff include the Houston Zoo's Design & Engineering project managers, the Director of Business Operations, and the Chief Operating Officer. After receiving their LEED Green Associate accreditation, employees were asked to identify a project to improve campus operations that could help save energy, save water, prevent pollution, reduce waste, or other green practices. To date, 16 projects have been completed on campus by LEED accredited staff that have helped reduce the Houston Zoo's carbon footprint by 57 tons per year, saved over 40,000 kwH of energy per year, and reduced water consumption by 3 million gallons per year.
Energy saving projects include upgrading automatic hand dryers in restrooms to more energy efficient models, increasing the installation of LED lighting, retrofitting electric-charging carts with solar roofs, and installing sub-meters on buildings to better understand energy consumption sources. Additionally, the Houston Zoo LEED employees have switched indoor paints to low VOC alternatives and upgraded landscaping equipment to battery-operated models to reduce dependence on combustion fuels. Two (2) of the Zoo's most recently completed projects include a green ticket kiosk and green food kiosk. These small buildings were built using recycled and renewable materials, include large windows to increase daylighting, and have prairie roofs to slow stormwater runoff, insulate the building, and provide habitat for native flora and fauna. The Houston Zoo LEED employee program has empowered staff members and made them feel confident that their position helps the Houston Zoo meet its mission.