Zoo News Blog
It's Just One Piece: Surfside Jetty Clean-up and Sea Turtle Rescue
This blog post was written by Taylor Rhoades, Conservation Impact Intern at the Houston Zoo. 
It's just one piece. Surely someone else will come along and pick it up, right? If it's still there after my meeting I'll come back and throw it away when I'm not in such a hurry.
How many of us have muttered those phrases to ourselves as we walk by trash on the street or drop something as we are rushing about our day? As easy as it is for us to pick up just one piece of trash and help clean up the areas around us, it is equally as easy, in the hustle and bustle of a huge metropolitan area, for us to disconnect from our surroundings and not think twice about where our litter ends up.
Some of our trash can make its way into our waterways, which lead to larger bodies of water like lakes or oceans. Here in Houston, we often find that trash ends up in the Gulf of Mexico. This body of water that we flock to each summer to escape the Texas heat is also home to hundreds of marine species that may find their homes polluted by debris.
It is because of this understanding that trash in our waterways can negatively impact local animals like sea turtles and pelicans that our Houston Zoo staff began assisting partners at NOAA who initiated a fishing line recycling program at the Surfside Jetty. The sea lion team that has taken the lead on this collaborative effort became deeply invested in this project because of Astro, a former Houston Zoo sea lion who came to us from California with a neck injury that is suspected to have been caused by trash in the ocean. Here at the Houston Zoo our animals serve as ambassadors for their wild counterparts, so whether we are working with sea turtles or sea lions we want our actions both on and off zoo grounds to reflect our mission of connecting communities to animals and inspiring action to save wildlife. As the zoo's conservation impact intern, I was given the opportunity to join one of these jetty clean-ups on Halloween weekend.
I will be first to admit that participating in a jetty clean-up can be daunting – the jetty stretches out as far as the eye can see, and trash is abundant. Down on the rocks, with waves crashing against me, I found myself determined to reach every piece of trash I could see yet frustrated by how much surrounded me and how difficult it could be to pry bottles and fishing line free. But then, something incredible happened – we saved a sea turtle.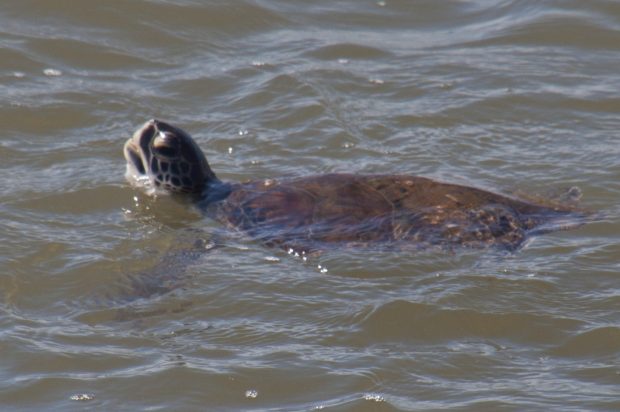 A visitor to the jetty spotted the turtle about 20 feet out from the jetty wall, and recognizing that it was struggling to swim, reported the sighting to zoo volunteers. We immediately notified the sea turtle hotline (1-866-TURTLE-5). Soon, we received instruction to monitor the turtle and have someone stay with it and report any changes. From the shore, it appeared that the green sea turtle was entangled in fishing line and was struggling to free itself. As we awaited, the turtle appeared to becoming more stressed and more entangled. As it fought to get free, it only exacerbated the problem. After thoughtful deliberation and safety planning, it was decided that if this turtle was to survive, it would be absolutely necessary to enter the water and extract the turtle. It is never recommended for members of the public to enter the water to extract a turtle due to the in-water dangers that exist. However, given the circumstances, Heather (the leader of our group) and I waded out to it without hesitation, cut it free, and brought it back to shore where we could monitor it. Shortly thereafter, biologists from NOAA arrived and provided the care the sea turtle needed, bringing it back to their facility in Galveston for rehabilitation. When the fate of another living being is resting quite literally in your hands, the importance of such clean-up efforts hits you on an entirely different level. It is no longer just about picking up trash – it is about how even the smallest of actions can help to prevent a potential life or death situation.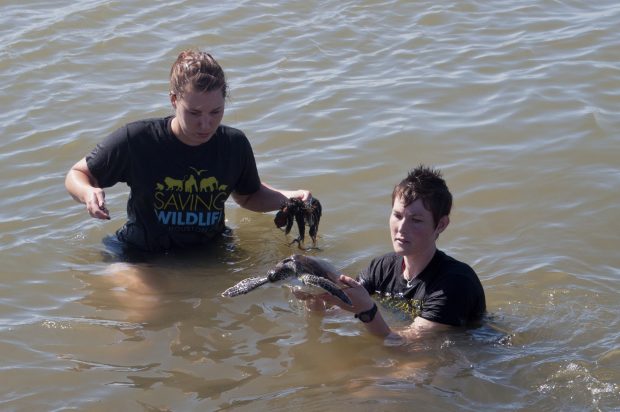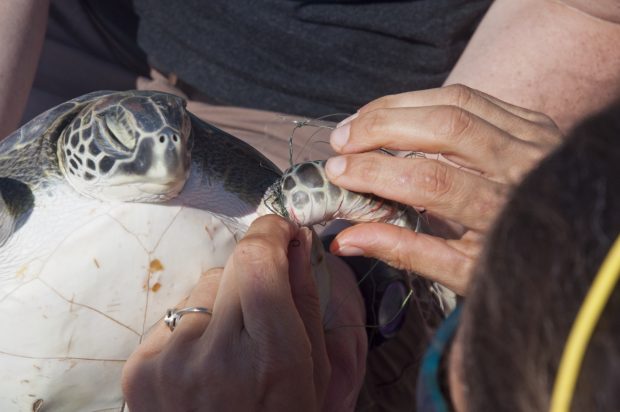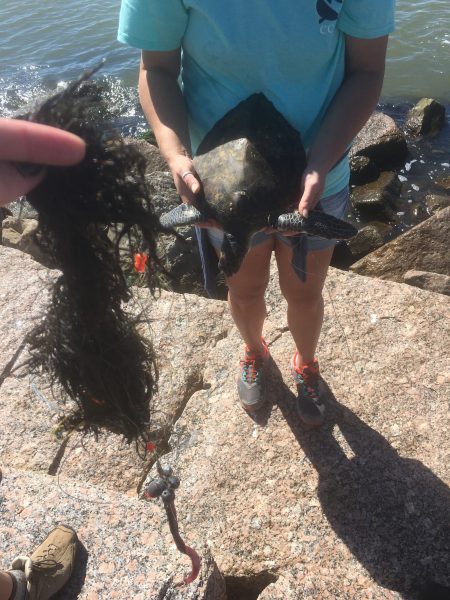 Tired from the endeavor, we began our trek back to the picnic benches to sort through the waste we had collected. We couldn't help but scan the jetty walls as we walked. After saving that turtle, could we really call it a day when there was more trash to be collected? It was like an itch that had to be scratched – we immediately jumped back into action, picking up pieces as we went. By the end nine of us had collected 70 lbs of recycling, 89 lbs of trash, and 15 lbs of fishing line.
If nine of us could collect almost 200 lbs of waste in a day, imagine the difference we could all make if everyone picked up a piece of trash each day and disposed of it properly. Just one simple action could mean the difference between seeing a sea turtle in distress and seeing it swim freely. With only one percent of sea turtle hatchlings reaching adulthood the turtles in our Texas waters have overcome incredible odds – let's do our part to keep them healthy!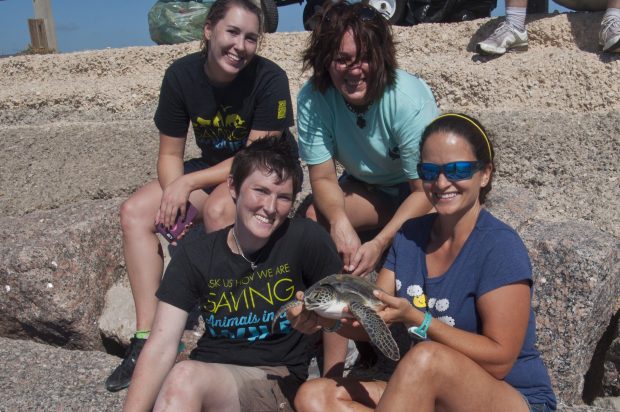 You can help save sea turtles and other ocean animals by:
Using re-usable bags and water bottles instead of plastic, which can end up in the ocean causing harm to animals!
If you fish, dispose of your used line at home, or in monofilament bins located along the coast at popular fishing spots – this will help to ensure that fishing line does not make its way back into the water
Pick up trash on daily walks or trips to the beach to help reduce the amount of debris that could make its way into our oceans!
Report any sea turtles on the beach to NOAA biologists at 1-866-TURTLE-5