We love our Members. Their incredible support allows us to make a difference to animals both locally and all over the world. This month, we're spotlighting Zoo Members that deserve recognition. We're thrilled to introduce you to July's Featured Members: The Singh family!

---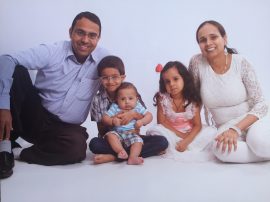 We asked the Singh family what being Zoo Members means to them and here's what they had to say, "We feel fortunate to live in a sprawling metropolis like Houston. Having a zoo in the city helps A LOT especially when two of our three kids want to be zoo keepers when they grow up and third one most likely will want do the same once he begins to speak for himself! Right now he is supposed to be a doctor or engineer because parents want him to be (missing the opportunity on the first two) one.
We are also Zoo Members because as a Member, we can wake up and decide to come to the Zoo at a moments' notice. We have been Zoo Members for about three years now.
We have three children, Gahan (7), Aarya (5) and Maneet (1).  Gahan's favorite animal is the giraffe because giraffes are the tallest animal in the world. The elephant is Maneet's favorite animal because it is dad's favorite animal and because he is too young to decide. Finally Aarya's favorite animal depends upon the day of week, month, temperature, season of the year and if she had a miff with one of her brothers or both.
We also like special Zoo events. An exciting part of Houston's Zoo is there is always some new exhibit or activity going on throughout the year. The new gorilla exhibit is really amazing and a must-see whenever we visit. The kids love to watch elephants eat breakfast and take a bath in the morning too. When it gets hot, the kid's water splash area is an added plus!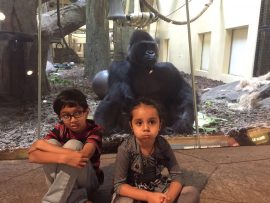 In addition to all of these advantages, the Houston Zoo is surrounded by a beautiful lake and park. The kids love to go on a boat and train ride on their way out of the Zoo. While we are at the Zoo, depending on time and day, sometimes we get the opportunity to feed pigeons too!
Normally the entire family comes with lunch. Sometime the kids like to come to the Zoo with their friends mostly once a month or sooner if there are special events or activities. Our favorite activities are Zoo Boo and Member Mornings.
We love the Zoo and feel that animals are well cared for at the zoo. The Zoo has an attractive range of animals, organizes special events and always adding to new attractions."
---
From all of us here at the Houston Zoo, we want to say thank you to the Singh family, and all of our Zoo Members. As a Houston Zoo Member, your support truly makes an impact on the growth of our Zoo and conservation efforts. THANKS!