We love our Members. Their incredible support allows us to make a difference to animals both locally and all over the world. This month, we're spotlighting Zoo Members that deserve recognition. We're thrilled to introduce you to July's Featured Members: the Bowles family.
---
We asked Mrs. Bowles to share a little bit about what being Zoo Members meant to her family. Here's what she had to say.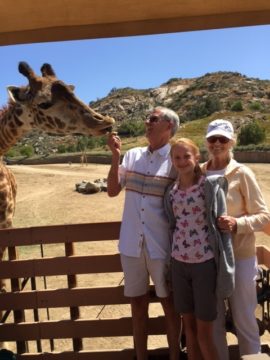 "Our unintentional journey to become Houston Zoo members began about 2 years ago.  We decided to take our granddaughter to San Diego for spring break and visit their famous zoo.  Little did we know that visit would profoundly affect us and change our way of thinking.  We took a couple of tours at the zoo and were very impressed by the incredible work being done to protect animals and educate the public.  On one of the stops, we were treated to the sight of a herd of rhinoceroses including one of the last surviving white rhinos.  Hearing the story of the near destruction of this species caused a deep sense of sadness and despair in our hearts.  I realized then that my granddaughter's children and grandchildren would probably only be able to see many animals because of the research, dedication and work of zoos both nationally and internationally.  I vowed then to do something to help these efforts.
Arriving home, I began to research zoos close to me in Texas.  I found that the Houston Zoo is one of the highest rated zoos not only in Texas, but also in the nation.  My husband and I decided to become members.  We then visited the zoo and took one of the Encounter Tours.  We had such a wonderful time, we returned and went on a Behind the Scenes tour.  Both times, we were in awe of how much we learned from the guides and the keepers and also the deep care and concern they have for the animals.  Walking around the zoo was such a pleasant and happy experience that we are determined to go as often as possible and enjoy all of the Animal Encounter and Behind the Scenes tours available.  We also decided to become Asante members and have included the Houston Zoo in our legacy giving.  Now we feel hope rather than despair knowing we are part of the Houston Zoo team's efforts to keep so many magnificent animals both close by and throughout the world surviving and thriving for future generations." -J. Bowles
From our team here at the Houston Zoo, we want to say thank you to all of our Zoo Members. As a Houston Zoo Member, your support truly makes an impact on the growth of our Zoo and wildlife conservation efforts. THANKS!