The Houston Zoo is well known for its efforts in saving wildlife.  Sea turtles, Houston Toads, Attwater's Prairie Chickens and even butterflies!  Yearly, staff and volunteers participate in Monarch tagging.  The butterflies are then reported to Monarch Watch when found so their migration can be tracked.
Some of our staff have a special interest in pollinators and are Staff Pollinator Pals.  Throughout 2019, we will be spotlighting some of these elite staff so you can get to know them and learn about how they are helping pollinators.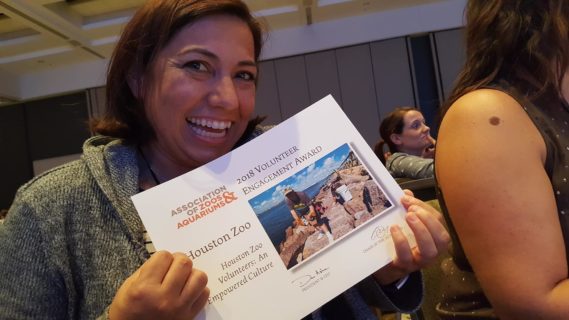 Our Staff Pollinator Pal in the spotlight today is Samantha Junker.  Samantha – or Sam as most of us call her – isn't a native Texan but has come to love our Lone Star State.  Sam works in our Conservation Education Department as our Volunteer Engagement Manager.  She is originally from a Marine Corps town in the California desert called 29 Palms.  The beach was calling her name, so she headed to Santa Barbara for college and got her Zoology degree from University of California Santa Barbara.  Her studies emphasized genetics and evolution, but she was also a history buff, so she minored in that!  She has been here at the Houston Zoo for almost 15 years and has worked in Hoof stock, Carnivores and now in Volunteers.
Sam was drawn to pollinators by her fascination of butterflies and hummingbirds.  Though she quickly discovered that she also has a love for
bumblebees!  In fact, she said, and I quote "Who doesn't love a little bee butt poking out of a flower?"  She once thought her favorite pollinators were butterflies because of the amazing metamorphosis they go through.  But now?  She loves bats and there are always those cute bee buts!  How does anyone choose a favorite?
How is she working to save pollinators in the wild?  At home, she and her husband are planting a pollinator-friendly garden with native plants, shallow baths, a hummingbird feeder and bird boxes.  They have also research natural ways to fertilize the garden and help deter pests that won't harm pollinators.  At the Houston Zoo, she has a huge interest in the pollinators of Explore the Wild, posting her sightings and chatting with guests and volunteers about what can be found in that amazing space.  It has turned into quite the happy space for her and is right outside her office!  Sam was even working for nature as a child.  She helped her mom make natural fertilizer out of horse poop and compost!  She had to put on rain boots and squish the smelly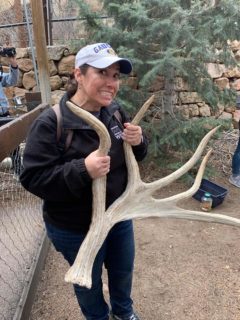 concoction in a wheelbarrow.  She said it looked like the grape crushing scene in one of the episodes of I Love Lucy!
Here is what she wants people to know the most about pollinators: "We simply couldn't do with out them.  I know that many people are afraid of bees, but really, they are just doing their own thing and going about their day making the world better for us all.  The same goes for bats!  Landscapers want these perfectly manicured gardens with evergreen leaves, but nothing is more beautiful to me than gobs of flowers, caterpillars, bees, butterflies and hummingbirds."
Here are some awesome resources for plant selection and purchase:
Houston Audubon: http://www.birdfriendlyhouston.org/get-started/the-basics/native-plants/natives-nursery/
Native American Seed: http://www.seedsource.com/Default.asp
Native Plant Society of Texas, Houston Chapter https://npsot.org/wp/houston/
Another benefit to planting your own pollinator garden?  Bring photos, reports or journals about your garden to the Swap Shop at the Houston Zoo.  You will be registered as a Houston Zoo Pollinator Pal along with earning points to spend in the shop!  Don't know about the shop?  Click here to learn more.