Written by Memory Mays

---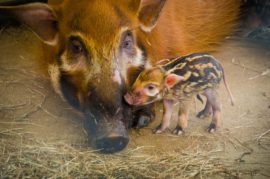 Well, as cute as Gus the warthog is with his mutton chops, it is now time to introduce two new additions to a different kind of hog family. Say howdy to our two red river hog piglets that were born on June 27 to parents Luna and Neptune. Our red river hog family is very active and constantly putting smiles on everyone's faces, but these two new piglets have everyone here at the Houston Zoo talking. Why? This is a pretty important event since these two piglets are the first ever red river hogs to be born in the Houston Zoo. That, and well… they're super cute!
The Houston Zoo loves our newest addition of adorable red river hogs, and is protecting red river hog families in the wild. The Zoo is providing funding for wildlife saving education programs in areas where the hogs live in Africa. The education programs guide local people to protecting red river hogs and other local animals in the wild.
You may notice these piglets don't look like their parents. Instead of having a solid red color on their entire body, they are a brownish color with white stripes along their bodies. This coloration is camouflage, and it helps them blend into their forested surroundings to hide from any lurking predators. These stripes will fade and turn into the vibrant red color when they are about six months old.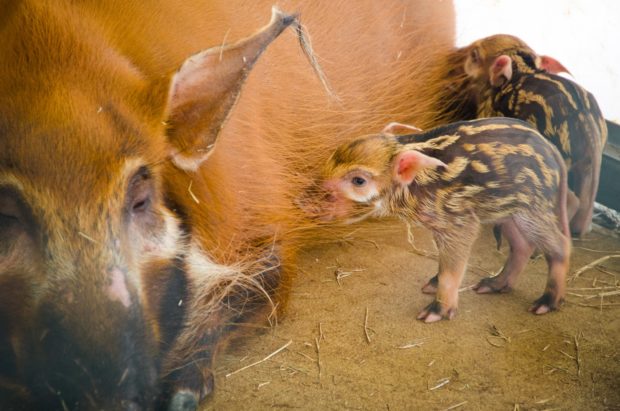 Another feature that raises the cuteness levels of these piglets are their ear tassels. Ear tassels on the adults help to make them appear larger and scarier to other hogs or predators. Luckily we don't have any predators that share our red river hog exhibit. The only animals that share the habitat are the gorillas, who seem to be just as fascinated by the piglets as we are. Like any young hog, these piglets are probably going to be very active and adventurous. Maybe they will take up wild bird chasing like Gus the warthog, or maybe they'll take up swimming in the stream to cool off in this Houston summer heat. Whatever the fun is, be sure to stop by and see our red river hog family in the African Forest at the Houston Zoo. Who knows what wild antics these two piglets might get into?!