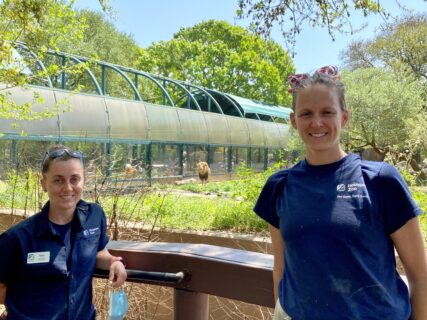 On this week's Facebook Live, we took you up close with our African lion, Hasani. Welfare is the number one priority for our animal care teams. To ensure Hasani is healthy, he participates in his own medical care by voluntarily working with his trainers on husbandry behaviors. This just means that he presents different body parts to his keepers – like opening his mouth, turning around, standing up, and more – to make sure he's healthy.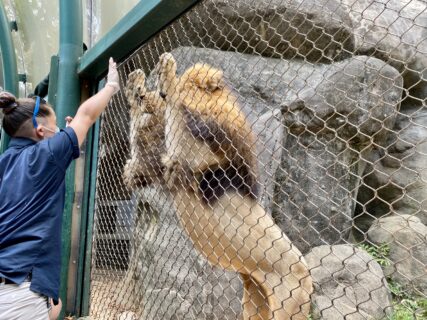 At 500 pounds, it's also important for Hasani to maintain his physical health through monthly bone-in meat jumps and mimic natural behaviors he would display in the wild. Our keepers put a giant piece of meat (about 6 pounds) in the middle of a zipline system and move it up and down and sideways to replicate a hunt. This type of enrichment works all his core and leg muscles while allowing him to also be mentally stimulated by problem solving the best way to reach the meat. In the wild, lions are only successful about 30% of the time with a hunt. For his keepers, they want to see him using his muscles and claws and attempting more than one jump to get in his physical activity, just like humans do working out in the gym.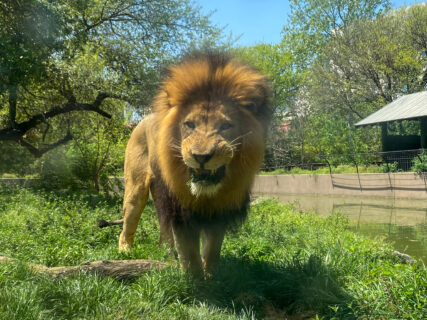 To learn more about Hasani and see his bone-in meat jump in action, watch this week's livestream below.
Don't miss the Zoo's 100th birthday bash on Sat, April 30. Entry is included with your general admission and free for Zoo members.