Written by Katie Buckley-Jones

---
Hi! My name is Katie and I am a carnivore keeper at the Houston Zoo. I wanted to take some time to talk about one of my favorite animals – jaguars. Here at the Houston Zoo we have three jaguars: Maya, Tesoro, and Kan Balam. While Maya and Tesoro have recently come to us thanks to the Species Survival Plan, Kan Balam has been at the Houston Zoo for 11 years.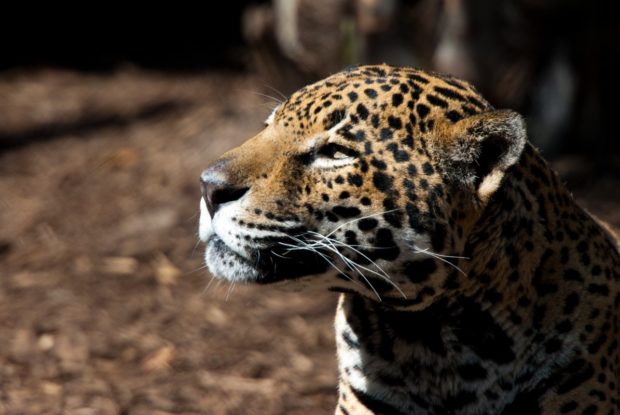 June 13 marks Kan Balam's twentieth birthday. This is a very exciting birthday, because reaching the age of 20 is no small feat. Most jaguars in the wild would typically only live to around 10-12 years old. Thanks to amazing medical care, dedicated staff, and no shortage of the best food around, jaguars in zoos can live into their late teens with the median age being 17.8. Currently, the oldest jaguar in an AZA (Association of Zoos & Aquariums) facility is a 21 year old female. Now that he's 20, Kan Balam ranks as the oldest male and fourth oldest jaguar.
Kan Balam was born at a zoological facility in Mexico. His keepers often refer to him as Kan B for short. Before coming to the Houston Zoo, he had an altercation with another jaguar and lost part of his front right foot. Don't let his limp fool you – he is still incredibly agile! He even gets laser acupuncture and annual chiropractic adjustments.
Kan B has led an amazing life and traveled to the Audubon Zoo and the Fort Worth Zoo before arriving in Houston in 2006. He is a great-grandfather and has sired many offspring throughout his life. When I met Kan B two and a half years ago, I had just left the Phoenix Zoo where I worked with his grandson, Harry. Harry was the first jaguar that took my breath away and I knew when I met Kan B, he was something special.
Kan Balam is well known as one of the carnivore department's most intelligent animals. He knows about 30 different behaviors and finds joy in outsmarting his keepers daily. When I became his primary keeper, I knew I was in for a challenge. He made me work day in and day out for his trust and respect until I could prove to him that I was worth his time. I have never worked with an animal so full of sass, attitude, and intelligence. This old man could give anyone a run for their money. Working with Kan Balam has been the highlight of my career so far and I cannot tell you how privileged I feel to be able to work with this amazing animal every day.
For his birthday, we will be giving him some of his most favorite treats, big boxes, and a special (jaguar-diet-friendly) cake!
Happy 20th Birthday Kan Balam!