Ever wanted to experience an adults-only, nighttime event at the Houston Zoo? Thousands of guests have been able to do just that this summer, thanks to TXU Energy's generous support as the Presenting Sponsor of our summer After Dark series. This 21-and-up event series debuted in 2018 and we were so impressed with the response that we added a fourth night to the line-up for 2019.
Each night features the Zoo's amazing animals, unique experiences, and cold beverages, but that's where the similarities stop. Each of the four events has a theme; this year we chose Throwback Thursday, Lone Star Soiree, Silent Disco, and All About That Bubbly. At Throwback Thursday, we celebrated the music, games, and clothing that only 90s kids would understand. The Texas-themed Lone Star Soiree offered guests the chance to explore the brand-new Kathrine G. McGovern Texas Wetlands exhibit. Last year's Silent Disco was so popular that we decided to bring it back for 2019; each guest received headphones with three different channels of music so everyone could pick their favorite genre and dance to the rhythm.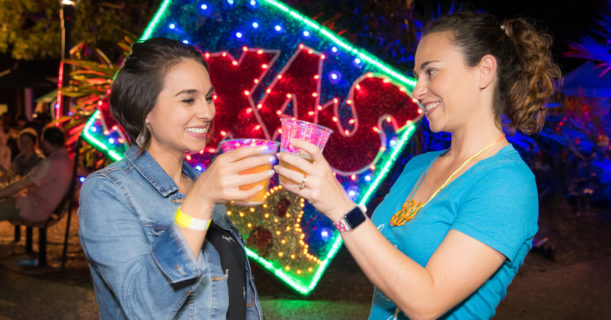 Don't worry if you feel like you've missed out, because you can still join us at All About That Bubbly this Thursday, August 15! You'll be able to enjoy your favorite champagne or prosecco, see our animals up close, and enjoy specialty food items, including chicken and waffles, loaded pastrami fries, and champagne cupcakes. Learn more and grab your tickets here.
While these events are fun, they ultimately serve to support our mission to save wildlife. That's because a portion of every ticket goes directly to protecting species in Texas and around the world.
We deeply appreciate TXU Energy for their partnership that makes the After Dark series possible!