Zoo News Blog
Gorilla Guardians: Houstonians are Protecting Gorillas through Electronics Recycling at the Zoo!
What do the zoo, cell phones, and Grauer's gorillas have in common? YOU! Each year, the Houston Zoo runs the Action for Apes Challenge, in which community groups and organizations can sign up and compete against each other to recycle the greatest number of cell phones and small electronics by the end of April.  These electronic devices contain a material called tantalum that is mined in areas where gorillas live – if we reuse and recycle these items, we can decrease the amount of mining that takes place in these vital habitats. The good news doesn't stop there – you have the opportunity to recycle these devices on zoo grounds year-round each time you visit, and just through the purchase of your admission ticket you are helping to support our partners at the Gorilla Rehabilitation and Conservation Education Center (GRACE) in their work to save the critically endangered Grauer's gorilla in the wild!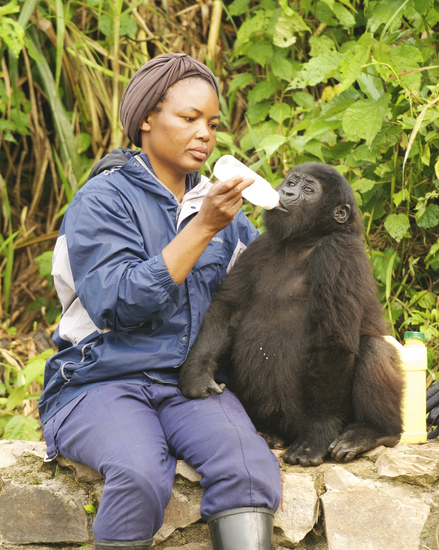 Located in the Democratic Republic of Congo (DRC), GRACE is the world's only sanctuary for rescued Grauer's gorillas. While nursing orphaned gorillas back to health and reintroducing them into the wild is the ultimate goal for the team at GRACE, their work extends far beyond that. GRACE works with local communities on conservation education and forest protection, as well as helping Congolese communities develop long-term solutions that will allow for them to live and work peacefully alongside neighboring gorilla troops. Working with a critically endangered species in a country that has a long history of war and insecurity comes with its own unique challenges, but the success that GRACE has seen speaks volumes to the importance and power of community involvement in saving wildlife.
Despite the return of political instability to the DRC in 2017, GRACE was able to not only continue their day-to-day operations but also launched projects that provided employment for more than 250 people. In addition, they were able to invest in projects like tree planting, village clean-ups, and starting vegetable gardens at local schools to help get communities through these hard times. GRACE hosted the first annual World Gorilla Day celebrating gorillas and their importance to the community, and had a turn out of over 3,000 people – the largest local gathering in recent memory! The team was also able to expand the forest habitat for the 14 orphaned Grauer's gorillas in their care, giving these gorillas an additional 15 acres to practice skills needed for life in the wild.
This year, GRACE will open the newly expanded gorilla habitat and complete its Community Education Center, which will become a central meeting place for education activities and community collaboration. Thanks to new partnerships within the DRC, the education program will expand, reaching more individuals living within the gorilla home range and spreading awareness and encouraging peaceful coexistence with these non-human primates. GRACE will also launch an exciting new project with local communities in the coming months – a fuel-efficient stove project. By reducing the amount of wood used to fuel cooking fires, this project will help save trees that make up vital gorilla habitat!
Our partners at GRACE are doing amazing work that is a win for both people and gorillas, and we could not be more proud to be a part of their extended family. By visiting the zoo you are helping to support the work of GRACE and our other partners around the globe that are working non-stop to save wildlife. Remember, you can help great apes like gorillas and chimpanzees directly by recycling your old cell-phones and small electronics on your next visit to the zoo, and challenge others to do the same!