Zoo News Blog
Gorilla Doctor Noel Reflects on His Time at Houston Zoo
The following post was written by Dr. Jean Bosco Noheli (Dr. Noel), a Rwandan field veterinarian for Houston Zoo wildlife partner Gorilla Doctors, and 2017 Houston Zoo Wildlife Warrior. As part of his Wildlife Warrior award, Dr. Noel spent three weeks in Houston this February receiving training at the Houston Zoo. The Wildlife Warrior program recognizes outstanding staff employed by the Zoo's existing wildlife conservation partners. Our Admissions' team raises funds through the sale of colorful wildlife bracelets, and the funds from these bracelets then go to our Wildlife Warriors to receive a training of their choice. The award is designed to increase the recipient's conservation community network and inspire empowerment by providing opportunities to gain further education through training or experiences.
"Last year, I was chosen as a Houston Zoo wildlife warrior by the Admissions team.  As part of this award, I was given the opportunity to train with Houston Zoo veterinarians.  In addition to zoological medicine skills, I gained so much inspiration for the conservation of wildlife sometimes forgotten or ignored in some societies across the globe.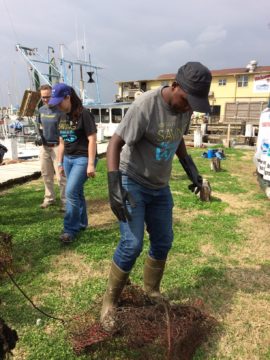 On Saturday 17th February 2018, I was lucky to be part of Galveston Bay Foundation's Crab-Trap Clean-up at the Galveston beach. To me this experience was equivalent to our "Umuganda" which means "community work". In Rwanda, every last Saturday all our communities come together to perform a selected activity of public benefits or use. Many thanks to Martha Parker, Conservation Impact Manager at the Houston Zoo for driving me all the way to and from Bolivar. With people from Dallas and Houston zoos, we all gathered to clean up the beach and collect and destroy illegal and/or abandoned fishing tools.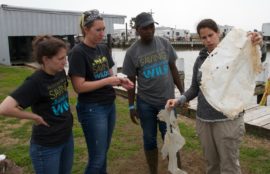 Once every February this activity is organized as a way to protect and conserve sea animals; mainly sea turtles. My team went to remove garbage from the beach and Martha took the opportunity to talk to the team about how sea turtles are attracted to white plastic bags and will feed on them, which can have fatal consequences.  It was a little bit discouraging being on the beach because by the time we were removing garbage, some visitors who were at the beach were littering – this shows why an education around pollution is needed. My advice to these visitors would be "Enjoy the beach but make sure you keep it clean to protect water and its community".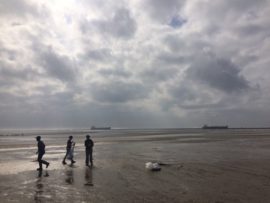 During my stay in Houston; I also realized that people spend most Saturdays working on their gardens, but it seemed very few care about the cleanliness of the city. With my experience with Rwandan Umuganda, I was asking my Houston friends why they couldn't expand efforts to their neighbors and beyond to make it something to bring people together for a common activity. Umuganda is not only about cleaning or making roads – it is very important for bringing people together, educating one another, and building love.
For example; that Saturday one could not tell who is from Rwanda, Dallas, Galveston or Houston because we were one great team for one great cause."