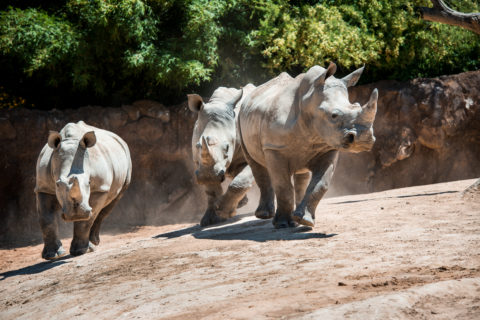 This week, viewers went behind the scenes to meet the Zoo's incredible rhino keepers, Memory and Heather and saw one of our beautiful southern white rhinos, Mumbles, enjoy some tasty food during our Facebook Live series. Our keepers and veterinarians are watching over Mumbles and the others closely, providing the highest levels of rhino care. The Zoo also supports people in Africa watching over and protecting rhinos in the wild.
In Namibia, the Zoo provides training, salaries, and supplies for a Rhino Ranger program, which is run by people in Namibia at Integrated Rural Development and Nature Conservation (IRDNC). They work with local communities to protect rhinos and other types of wildlife from illegal hunting. Today, our Rhino Ranger partners in Namibia are exercising all of the required health precautions, while continuing to provide protection for wild rhinos. In the Kunene region, which sits in the north-west corner of the country, they work with local communities to have them help watch over the wild rhino herds.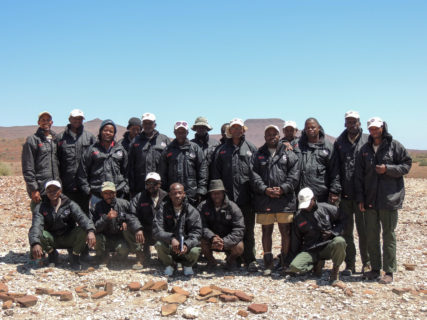 Most people in the Kunene Region are rural subsistence farmers, living in remote, small settlements without reliable access to water or electricity. These communities depend almost entirely on small-scale animal husbandry or jobs in the tourism sector. When communities participate in programs like this, they have more connection to, and value for the wildlife, and are likely to have ownership for any arising plans.
Thanks to these efforts there are now three times more rhinos in the area since 1982, making the region home to one of the largest free-ranging black rhino populations in Africa. Our partners are striving to improve the lives of rural people by diversifying the socio-economy in Namibia's communal areas to include wildlife and other valuable natural resources. This will secure long-term protected places for wildlife outside of national parks.
Although the Zoo has temporarily closed its gates to help slow the spread of COVID-19, the team continues to work tirelessly to care for the animals. In order to help support the Houston Zoo during this unprecedented time, the Emergency Zoo Fund has been launched to help. Your donation to the Zoo helps support the care of the animals at the Zoo and in the wild.