It's a bird, it's a plane, it's a bird on a plane!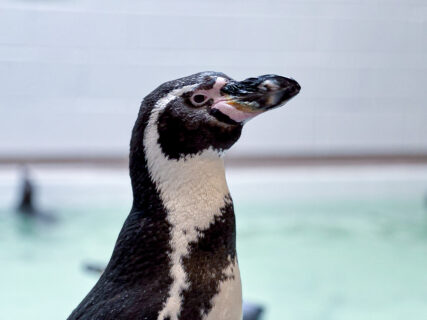 Wait, I thought penguins couldn't fly?
You're right, they can't! However, earlier this month, two Humboldt penguins took to the friendly skies on a flight from Seattle to Houston, escorted along the way by our own sea lion-and-now-penguin keeper, Amanda. After the traveling trio touched down, the penguin pair were quickly introduced to their new colony at our new Galápagos Islands.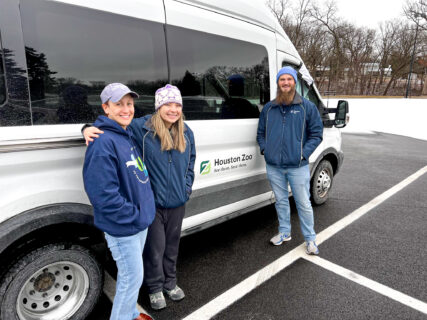 The week prior, six other Humboldt penguins had an epic road trip with Amanda, project manager Trisha, and aquarium keeper Kenny, who traveled 1,800 miles over several days (24 hours of driving!) to get the birds to Houston. While Amanda, Trisha, and Kenny were traversing the Midwest, team members from several different departments were putting the finishing touches on the penguins' new space and getting ready to give them a big Houston welcome. After a few harrowing hours navigating the ice storm in North Texas, the penguins arrived, and Dora made history by officially being the first penguin to make her home at the Houston Zoo.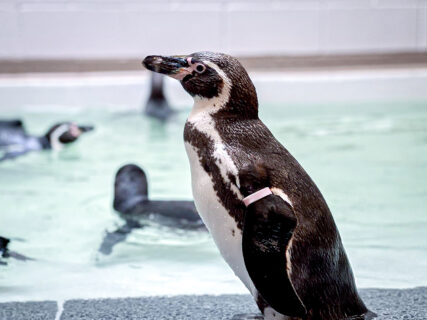 The colony of 10—two more penguins arrived earlier this week—is currently in quarantine, getting to know each other, their new home, and our animal health and care teams. They are eating a robust diet of capelin and silverside fish and swimming and splashing in their new home. We're excited to introduce you to each of them soon!
Why Humboldt Penguins?
Galápagos penguins–among the smallest of all penguins–are threatened by overfishing, ocean pollution, and climate change, and are protected from leaving their native lands. It is the most endangered penguin species in the world, with an estimated population of less than 2,000 individuals. Because of this, closely related Humboldt penguins represent them in the Zoo's new habitat.
Humboldt penguins are also a great fit for Houston, since they originate from coastal Chile and Peru in South America where it can get as warm as 100 degrees. However, they will not have to battle the Houston heat as they will live in a climate-controlled environment where they will be comfortable at a consistent temperature and will be protected from Houston's mosquitos, which can carry avian malaria.
When can I see them?
Soon! We're excited to introduce our colony to the public when we open on Friday, April 7. Until then, we'll be sure to share updates, videos, and photos when we can.