We love our Members. Their incredible support allows us to make a difference to animals both locally and all over the world. This month, we're spotlighting a Zoo Member family that deserves recognition. We're thrilled to introduce you to February's Featured Members: The Daoust Family.

---
We asked Mrs. Daoust to share a few words about what being a Zoo Member means to her. Here's what she had to say.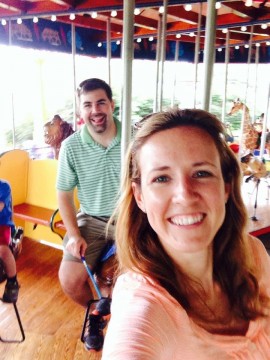 "As a mother of three and a native Houstonian, I am always trying to find the best places to take my kids; many of them are new to all of us, but some of the places bring back memories from my own childhood. The zoo is, hands down, our favorite place in Houston. I love taking my kids there, and we all know the zoo like it's our own backyard, yet we seem to discover something new or have a different experience each visit. Recently, my older kids have become interested in the swap shop, and they love trying to find interesting things in nature to exchange. However, what they are the most excited about is sharing everything they love at the zoo with their new baby sister.
My family has had a membership at the zoo for about 7 years. In the first couple years, I pushed a single stroller with my eager and curious daughter, planning each visit around her favorite animals: the elephants, sea lions, and big cats. Soon enough, I was cruising around the zoo with a double jogger, making sure that each visit included a carousel ride, a trip to the playground, many animal sightings, a crawl (or two or three or thirty) through the tunnel in the Natural Encounters house, and a stroll past the monkeeeeeys for my son. Now, we go as a family of five with two big kids leading the way and another eager and curious daughter in the single stroller. We never miss the African Forest, which houses my favorite animals, the majestic giraffes, and my husband insists on going through the bug house, despite the terrifying cockroaches, because he was one of the engineers for that exhibit. We all challenge ourselves to see if we can make it to every corner of the zoo. We don't want to miss anything!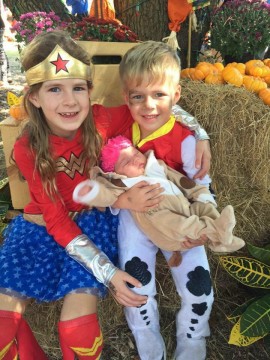 Our family also loves to attend the special zoo events, like Zoo Boo and Zoo Lights. It is so fun to go to these events with friends and family. As the coach of my daughter's soccer team, I schedule a team outing to Zoo Boo each year. The kids have so much fun in their costumes, dancing along to monster mash, trick-or-treating, and painting pumpkins. We adults have a great time too!
Whether we just go for a quick dinner with the giraffes or stay for a long Saturday, the zoo never gets old. I really look forward to many more years as a member and continuing to discover more of what we love about the zoo!"
From all of us here at the Houston Zoo, we want to say thank you to the Daoust family and all of our Zoo Members. As a Houston Zoo Member, your support truly makes an impact on the growth of our Zoo and conservation efforts. THANKS!