Endangered Species Day is an opportunity for people of all ages to learn about the importance of protecting endangered species as well as everyday actions they can take to help protect them. The Houston Zoo, and other AZA-accredited institutions around the world, have united to bring awareness to the global conservation effort to save endangered species and their habitats in the wild.
What makes a species endangered? According to the International Union for Conservation in Nature (IUCN)
An Endangered species is a species which has been categorized by the IUCN Red List as likely to become extinct. "Endangered" is the second most severe conservation status for wild populations in the IUCN's schema after Critically Endangered.
We have a number of endangered species at the Houston Zoo and some of them might be your favorite animals! Did you know Asian elephants, orangutans, and gorillas are all endangered? The Zoo's Conservation team works with 30 conservation partners in 16 different countries to help these animals and others including the Grevy's zebra, shark and ray species, cheetahs, and more! Global partners use our conservation resources for funding, business development, and even event planning to connect their local cultures to the animals they're trying to save.
In addition to our global conservation efforts, the Houston Zoo works diligently to help three local species and increase their chances of long-term survival.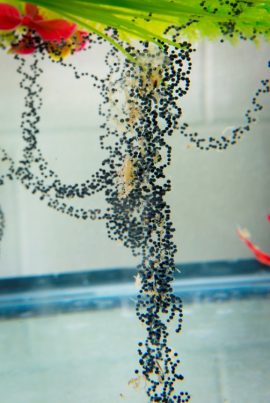 Local conservation projects happen behind-the-scenes at the Houston Zoo where dedicated keepers work with these animals daily to increase their numbers in the wild. One such animal is the Attwater's prairie chicken. This dynamic bird used to call the plains of Texas home, but now only about 100 exist in the wild. The good news is, 362 eggs are currently being incubated to raise and release back into the wild thanks to the amazing bird department here at the Zoo!
A mature, male Attwater's prairie chicken at the Attwater's Prairie Chicken National Wildlife Refuge.
The juvenile birds are released at the Attwater's Prairie Chicken National Wildlife Refuge to grow to maturity and repopulate the area. Last year 176 chickens were released!
Similarly, the Houston toad is no longer in Houston, but its numbers are growing thanks to the work of the Herpetology department and volunteers at the Zoo. The Herpetology department at the Houston Zoo currently has 700,000 eggs ready to be released in the Bastrop area. In 2015 they released 600,000 eggs in cases that protect the fragile eggs until they become tadpoles.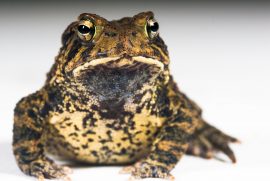 So far, 2016 has been a successful year thanks to those 600,000 eggs. In past years, mating calls of Houston Toads have been scarce, but were more prominent this year. A very good sign for long-term sustainability!
Finally, the Zoo partners with the National Oceanic and Atmospheric Administration (NOAA) to help save sea turtles in the Gulf of Mexico. Our veterinarians provided medical care for 124 turtles in 2015 and 17 in 2016 to-date.
A common green sea turtle rehabs in the Houston Zoo Kipp Aquarium.
All five species of sea turtle – Kemp's ridley, green, loggerhead, leatherback, and hawksbill – found in the Gulf are endangered.
What can you do to help?
Attwater's prairie chicken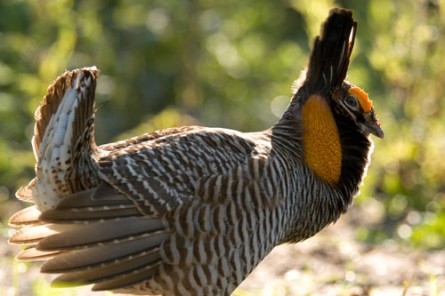 Come to the Zoo! Each time you visit, a portion of your ticket goes towards our conservation programs – including the Attwater's prairie chicken!
Houston toad 
Recycle your old batteries. Batteries leak harmful chemicals into waterways when they aren't disposed of properly. Since amphibians, like the Houston toad, have sensitive skin that absorbs the environment around them, recycling batteries will help keep them healthy!
Sea turtle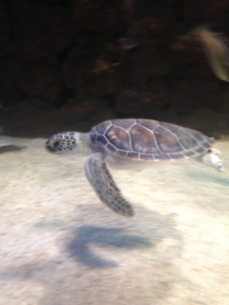 Use a reusable bag when you go shopping. Single-use plastic bags are often confused by sea turtles as sea jellies – one of their favorite foods! Using a reusable bag when you go to the store will keep these single-use bags out of the environment and keep sea turtles out of harm's way.
Want to know more about what you can do to help save animals in the wild? TAKE ACTION