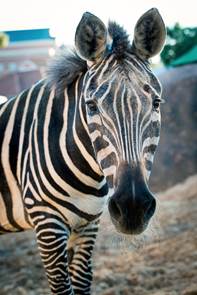 We are sad to report that, after a very long life, Charlie our female Grant's zebra died Sunday morning, January 24. A month shy of 33 years old, she outlived her life expectancy by eight years. Charlie was an honorary member of the giraffe herd, and the self-appointed giraffe herd leader. Feisty by nature, Charlie could occasionally be observed kicking at even the biggest of the giraffe if they got too close. If she was standing in the doorway to the barn, none of the giraffes would attempt to pass by her!
On Sunday morning, the keepers and veterinary staff worked diligently to provide treatment to Charlie, but she ultimately died from complications of age-related conditions.
Charlie will be missed by staff and guests alike.