We love our Members. Their incredible support allows us to make a difference to animals both locally and all over the world. This month, we're spotlighting a family of Zoo Members that deserve recognition. We're thrilled to introduce you to December's Featured Members: The Pollock Family
We truly cherish being zoo members! Our boys are now 8 and 10, and they have grown up visiting the zoo. When we travel, we also go to other zoos, which keeps reminding us how amazing our zoo is here is Houston!
The whole family feels like a part of the Houston Zoo community. And it truly feels like a community. Our boys have always wanted to get up close and involved with the animals. Through the Adopt and Animal program, we were able to create a shared experience with their cousins (who live near Washington D.C. and are also passionate about animals). When the cousins come to town, all of the kids insist on going to the zoo to visit "their animals". Additionally, we were thrilled when we learned that our next-door neighbor was a zoo volunteer. When she shared that elephants love to eat kumquats and asked if we would be willing to allow her to gather some from our own backyard tree, we jumped at the chance to be a part of feeding the elephants. When we see the orange-colored peels on the ground, there is a sense of excitement that those are our fruits!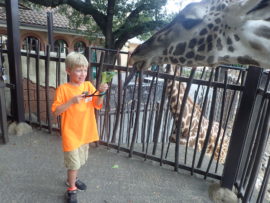 Then, there is zoo camp. Our boys LOVE zoo camp. It has taught them so much about animals, the environment, our impact on and inclusion in the animal kingdom, as well as giving direct, hands-on experiences that extend beyond what we ever expected. To say that we (their parents) are envious of everything they get to do and experience while at camp would seriously be a huge understatement!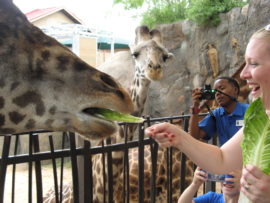 Perhaps most importantly for our family, the Houston Zoo absolutely allows for and encourages a diversity of experiences that provides the chance to feel close to the animals. Our family absolutely feels personally involved and invested in the zoo and the animals. This investment is not just at the zoo, but extends to all animals worldwide. We are so grateful to have this experience so close to home and to be able to participate in an affordable, quality experience. From the habitat-style spaces, to viewing windows, keeper talks, education and enrichment programs, and the interaction opportunities (holy moly is it fun to feed a giraffe!), the Houston Zoo creates a world-class, inclusive environment that seems uniquely its own. We are so proud to call it ours!
From all of us here at the Houston Zoo, we want to say thank you to the Buchanan's and all of our Zoo Members. As a Houston Zoo Member, your support truly makes an impact on the growth of our Zoo and conservation efforts. THANKS!