By Heidi Garbe,  Colleen Cavanaugh, and Houston Zoo Volunteer Penny O'Neal
---
The Houston Zoo teamed up with the Galveston Bay Foundation and Texas Parks and Wildlife on February 18th to help pull abandoned crab traps from Galveston Bay waters. We pitched in at two locations:  Bolivar Peninsula (at Stingaree Restaurant) and Fort Anahuac Park. The event was a success with teens, staff, and adult volunteers from the Houston Zoo coming together at these locations. In total, over 300 traps were pulled from the bay and are no longer a threat to other animals.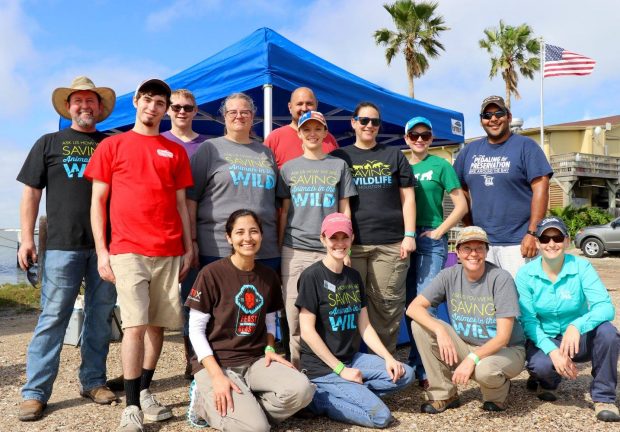 The group at Bolivar began the day by pulling up several crab traps that had been in the water near Stingaree Restaurant. The traps had become encased with pounds of mollusks and the group had to be creative in saving these creatures before removing the traps.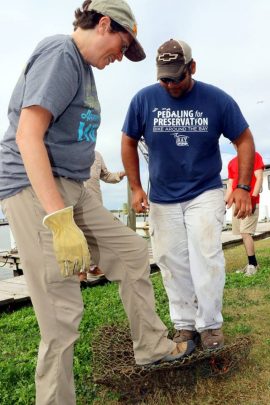 Teens participating in our new Adventure Programs spearheaded the on-land clean-up around the shore at Fort Anahuac Park. The collected five bags of trash, six bags of recycling, and removed two old tires from the marsh. When boats came in with traps, they helped to smash them and put them in the front loader to be thrown in the dumpsters.
Community members also volunteered their time and their boats to bring in crab traps to be smashed and thrown away. This work is crucial to support healthy Galveston area waters and to remove abandoned traps that catch more than the intended crabs. Additionally, it helps to protect blue crab populations. By removing these traps from the water, it is estimated that we helped save over 5,000 blue crabs that would otherwise perish in these old traps.  The removal of crab traps is only allowed for a short period of time every year, so it's important to make a massive effort when we can.
The Houston Zoo informally presented on plastic pollution and sustainable seafood, too. Several people stopped at our table to get more information on these issues and what they can do to help clean up the beach and save marine life from damaging fishing practices. In addition to educating the public and helping to clean up the bay, the beautiful weather and good company made the entire effort fun! Want to get involved, too? You can learn more about the crab trap removal program here.
Special thanks to Stingaree Restaurant for their support and delicious food, and to the Galveston Bay Foundation for coordinating our efforts at these two sites! Amazing things happen when we come together as a community.
*Photos courtesy of Gene Fissler, GBF, and our volunteers!