On Saturday, July 15, the Houston Zoo and Whole Foods hosted a beach clean-up at the Galveston Island State Park. About 60 guests came out to help clean, collecting 15 full bags of trash and 4 full bags of recyclable items! It's important to keep trash off the beaches, and out of the ocean, to protect the animals living there. Thank you to these wonderful volunteers!
Written by Stephanie Krail, Marketing Intern
---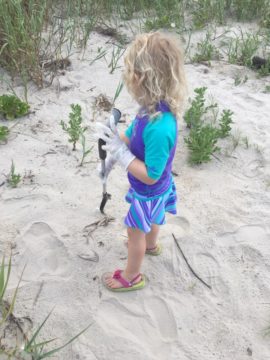 This was my first beach clean-up to ever participate in and I am so glad it was with the Houston Zoo. The first hour I spent cleaning up the beach with the other volunteers because I wanted to see first-hand what was out there and how the volunteers were reacting to it. We had volunteers of all ages helping to clean the Galveston Island State Park. I was thrilled to see that families with young children came as this is a great way to educate a child on the importance of recycling, using reusable items, and not littering. We all had a great time seeing what we could find. It was almost like a scavenger hunt, seeing who could pick up the most unusual items. We found everything from milk jugs to soles of shoes. But the most common item that we found was plastic bottle caps. We found over a thousand bottle caps in two hours. This really shocked me as bottle caps are something that we could use less of every single day. The use of reusable bottles not only reduces the numbers of plastic bottles in the ocean but also plastic bottle caps.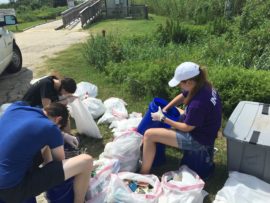 The last two hours we spent digging and sorting through the trash that the volunteers collected. Another popular item was cigarette butts. This was really sad for me to find because not only is it littering but it can be toxic to a marine animal if they ingest it. I was so glad to do this with the zoo because they had so much information and facts about what all we were finding. They knew which plastics were recyclable and which things had to be thrown away as trash.
Overall, it was such a neat experience and I hope that the Houston Zoo continues to hold it. This is something that you could do without a huge group or budget, all you need is a trash bag and a few helpful hands! This experience helps you see just a sliver of the trash that is out on our beaches and shores and allows you to see that something as simple as using a reusable water bottle every day really can make a difference.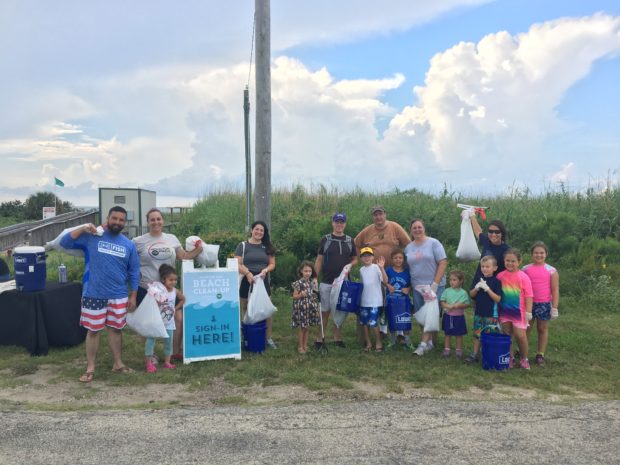 Most Found Items:
Plastic Bottle Caps – 1,362
Tiny Plastic Pieces – 761
Straws – 137
Strangest Items Found:
Shoes/Shoe insoles – 3
Beach Balls (still partially inflated) – 2
Bathing suit – 1