Written by Mary Fields
---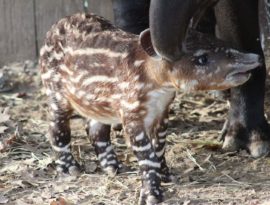 Join baby Antonio and the Houston Zoo in celebrating World Tapir Day! We will be holding our third annual Tapir Spotlight on Species this weekend, April 29th and 30th, from 10:00 am until 3:00 pm.
Last year, Moli was new to our Tapir SOS as our new breeding female. But guess what? Moli had a baby named Antonio! Antonio was only about 20 pounds when he was born, but will reach around 550 pounds when he is full size! Antonio is typically exploring or sleeping on exhibit from 9:00 am until 2:15 pm, weather dependent.
There are four species of tapir, including three Latin American species, Baird's, Lowland, and Mountain. The Malayan tapir is the fourth species and the only Asian species of tapir.
Along with celebrating tapirs, we will also be celebrating Día del Niño, or Children's Day! So, come out this weekend to the Houston Zoo and learn about tapirs, play fun tapir-related games and of course to see baby Antonio!