Zoo News Blog
Behind the Scenes – Efforts of the Volunteer Office
Written by Heidi Garbe, Houston Zoo Volunteer Coordinator

---
When you visit the Houston Zoo, you see the animals, you see the animal keepers, you see the grounds team, you see restaurant staff. You also see volunteers, and if not, you should know there are volunteers helping behind the scenes daily. There are so many people and departments that allow a zoo to function; a team that you may not see is the staff of the Volunteer Office.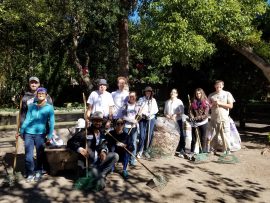 With a team of over 1,000 volunteers each year, it takes some staff to coordinate those efforts, matching interests and skills with the needs of the zoo. One facet of our volunteer program is engaging community and corporate groups in single-event projects. Zoo Boo, for example, requires over 600 volunteers during the fall season, which is a perfect opportunity for groups to come out and support the zoo. As you may imagine, getting that many people in place requires much planning. Think how often your plans can change; the Volunteer Office must constantly be ready for a significant shift in volunteer coverage, requiring flexibility and constant communication.
Zoo Boo is likely the most common place you may encounter a group volunteer, but they also help year-round in other projects. Our animal teams regularly depend on small groups to accomplish beautification and up-keep projects. Volunteers may assist in mulching, raking, weeding, or replacing sand substrate in some of our animal exhibits. Although these opportunities do not allow for interaction with animals, the hard work pays off and volunteers can see the difference – as can all of the guests. The animals surely appreciate it, too!
Besides our one-time group volunteers, we have hundreds of year-round volunteers doing all sorts of shifts each week. It is thanks to their independence and drive that just three people can manage such a large volunteer program, yet there is always plenty to do. We quite often spend time at our computers organizing people and associated activities. We use a computer program that allows volunteers to self-schedule but with so many people involved, much communication with zoo staff and our volunteers is still necessary to facilitate and trouble-shoot. We also work to create new programs and training to enhance the volunteer experience and create more informed, engaging volunteers. It takes three of us working very diligently to keep up with all the requests from both staff and volunteers for activities happening day and night.
So what's normal in a day as Volunteer Coordinator at the Houston Zoo? There is no "normal!" We operate in a non-stop, fast-paced atmosphere enriched with a lot of incredible people donating their time. It is an honor and a privilege to connect the community with unique opportunities at the Houston Zoo, all with the end goal of saving animals in the wild.