The sweetest little Father's Day present is here! Less than a year after Houston welcomed Asian elephant calf, Joy, a new kid is on the block. This morning at 2:38 a.m., 35-year-old Asian elephant, Tess, gave birth to a 345-pound female without complication, and the calf began learning how to nurse within the first few hours. The calf has been named Tilly by the team who have dedicated their lives to the care, well-being, and conservation of these incredible animals.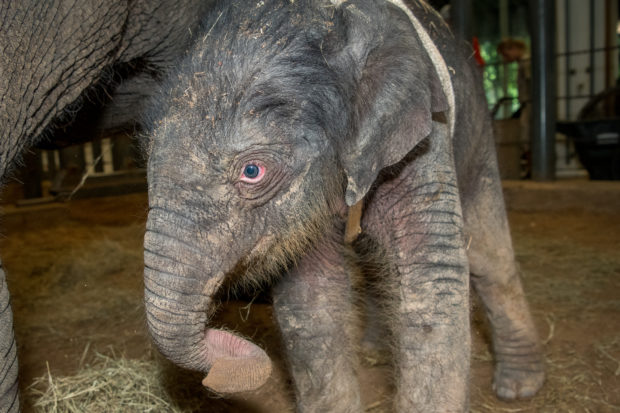 "Our animal team is thrilled that the birth has gone smoothly," said Lisa Marie Avendano, vice president of animal operations at the Houston Zoo. "We look forward to continuing to watch Tilly and Tess bond, and introducing her to Houston."
Tess gave birth in the McNair Asian Elephant Habitat cow barn under the supervision of her keepers and veterinary staff. She and the calf will undergo post-natal exams and spend several days bonding behind the scenes, before they are ready for their public debut. During the bonding period, the elephant team is watching for the pair to share several key moments like communicating with mom and hitting weight goals. This is the third calf for Tess, who is also mother to Tucker (13) and Tupelo (7), and raises the number of elephants in the Houston Zoo herd to ten, four males and six females.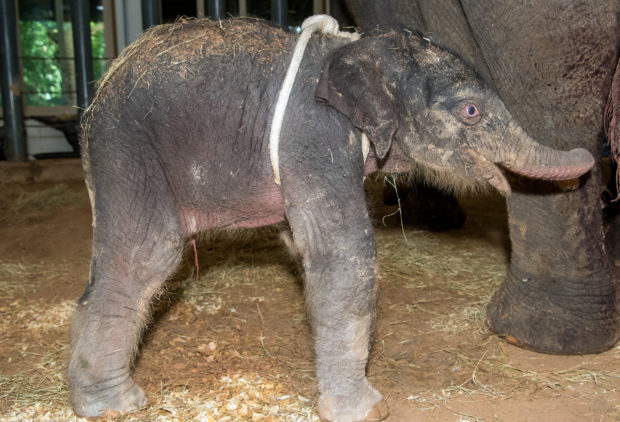 Baby elephants are quite wobbly when they're first born, so Tilly will wear a harness for a few days so the zoo's elephant team can help her stand steady while she's nursing.
Just by visiting the Houston Zoo, guests help save baby elephants and their families in the wild. A portion of each zoo admission and membership goes straight to protecting an estimated 200-250 wild elephants in Asia. The Houston Zoo started its work in Borneo in 2007 and also provides funds for elephant conservationist, Nurzhafarina "Farina" Othman and her team in Asia, to put tracking collars on wild elephants. This group uses collars to follow wild elephants, conducting valuable research that aids in protecting the elephants as they travel through the forests. Farina also spends time working with farmers that grow and produce palm oil, offering her guidance in responsible cultivation practices that are wildlife-friendly.