We love our Members. Their incredible support allows us to make a difference to animals both locally and all over the world. This month, we're spotlighting a Zoo Member family that deserves recognition. We're thrilled to introduce you to April's Featured Members: The Kong-Saibi Family.

---
We asked Jennifer to share a few words about what being a Zoo Member means to her family. Here's what she had to say.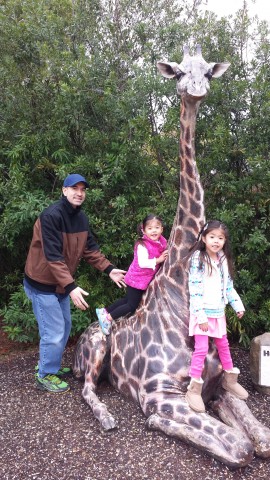 "Having grown up in Houston, I have fond memories myself of time at the Zoo. Now, married with two daughters Madeline & Margaret, we are members because I wanted the girls to be able to enjoy and make memories of their own at the Houston Zoo, deepen their love of animals big and small, and learn to respect and support wildlife and natural habitats.
We have been members for the past seven years, since our oldest daughter was born. Our Zoo Membership is an annual Christmas gift from my mom who supports the Zoo in her own right, volunteering as a clown through her church on Dreamnight, an event held for children who are chronically ill and disabled children and their families.
Being a Zoo member has many advantages. It allows us to visit often, the flexibility to stop in when we have just a couple of hours to spend, to meet friends for play dates, or to spend the entire morning or evening there if we have the time!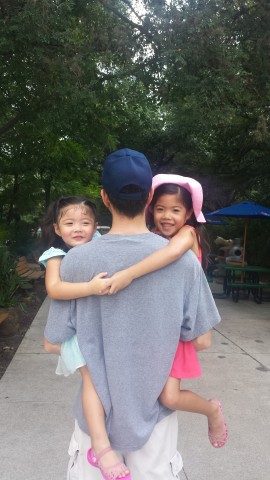 Over the years, we've enjoyed the many events the Houston Zoo has for its member families, including the Zoo Boo, Zoo Lights, and school holiday camps. We also love Member Saturdays, when we are able to enjoy the Zoo an hour earlier than the general public, a time when many of the animals are much more active!
What we love about the Zoo is that though it is on a fixed piece of land, it is always growing and evolving. Each time we go, it seems as though there is something new that we've never before seen. We also enjoy the fact that the Zoo is a place that individuals of all ages enjoy, and that our children have and will continue to enjoy through the years.
I am proud to also work for a small business, Cammarata Pediatric Dentistry Group, that has been a great supporter of the Houston Zoo. We even have some artwork at our Central office designed by one of the zoo's residents, the meerkats!"
---
From all of us here at the Houston Zoo, we want to say thank you to the Kong-Saibi family and all of our Zoo Members. As a Houston Zoo Member, your support truly makes an impact on the growth of our Zoo and conservation efforts. THANKS!