Feast Information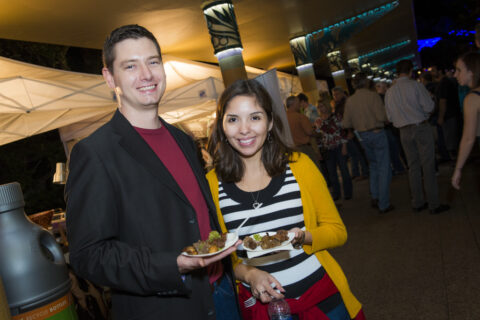 Join us on Friday, April 14 as we conclude our Centennial year and kick off our next 100 years with one of the Zoo's most anticipated events! Guests will be among the very first to experience the new Galápagos Islands exhibit at night, enjoy live entertainment throughout the event, and sample cuisine from Houston's best eateries as featured animal residents enjoy culinary enrichment themselves. VIP ticket holders may also take advantage of the exclusive VIP lounge with unlimited beer and wine, exclusive entertainment, and visits from special animal ambassadors throughout the evening.
Your participation at Feast with the Beasts is an opportunity for you to contribute to our wildlife saving mission. All costs incurred may be considered a contribution to the Houston Zoo, a Section 501(c)(3) corporation. Plus, your establishment will be recognized on the event webpage and in the event program and map.
If you have any questions about participation, please email feast@houstonzoo.org.
Participating Restaurants
As a contributing culinary institution, benefits include:
Ten (10) passes to the Galápagos Islands exhibit preview (if participation is confirmed by January 30)
Ten (10) general admission tickets to the Houston Zoo valid through the end of the year
Inclusion in the event program, map, and web page
Each restaurant is eligible to receive a $400 stipend to offset labor costs, to be paid after the event. (Completion of the Zoo's supplier packet is required, to be provided upon confirmation of participation.)
Each participating eatery will:
Submit their menu no later than three weeks prior to the event (signature dishes are encouraged)
Provide sample-sized portions for up to 2500 guests
Follow all safe-food handling protocols as outlined by the health department, including providing any heating and cooling devices needed to keep all food at a safe temperature. (Ice will not be provided.)
The Zoo will provide:
A 10×10 set up space with pop-up canopy tent
Two 8' tables with linens for prep and serving
One 8' table with sanitization supplies as required by the health department
FREQUENTLY ASKED QUESTIONS
When and where is this event?
Friday, April 14, 2023 at the Houston Zoo. VIP guests will begin entering at 6:00 p.m. Food will be served until 9:30 p.m. The event ends at 10:00 p.m. Pleas plan to arrive between 2:00 – 5:00 p.m. to set up your station.
Which restaurants are participating?
Black Walnut Café
Blood Bros. BBQ
Calavera Mexican Kitchen
City Cellars HTX
Community Coffee
Dessert Gallery
East Side King
Eurasia Fusion
Federal American Grill
Fogo de Chao Houston
Golfstrommen
Gordo Ninos
Harold's Restaurant, Bar & Terrace
Hughie's
Johnny Good Burger
Kuu
Lea James
Lemond Kitchen
Low Tide Kitchen & Bar
Mendocino Farms
Merlion
Michael's Cookie Jar
Molina's
Nokturne Food Bar
Ouisie's Table
The Palm
Patra Lee's Kitchen 1848 Ice Cream
Raising Cane's
Sambuca
Soy Pinoy
Sweetgreen
Taste of Texas
Tecas TexMex
Texas de Brazil
Thai Kun
The Chef's Table
Valencia's Tex Mex Garage
Vinny's Pizza
Wolfe & Wine Co.
How many sample-size portions need to be provided?
Each participating restaurant is asked to provide a minimum of 2,500 sample-size portions of a dish or dishes that reflect its signature cuisine.
Will the Zoo have an on-site kitchen available for use?
We will not have an on-site kitchen available for use. Ice, coolers and sternos will not be provided, but you will be required to keep your food at appropriate temperatures.
How many staff members may each restaurant bring?
You may have a maximum of four people working your station (must be 21 years of age or older). The Houston Zoo will provide volunteers to help answer questions or help with requested (prior to the event) supplies to maintain your station.
Is parking provided?
A minimum of two vehicles will be permitted. Load-in and parking details will be provided closer to the event.
Is this tax-deductible?
All costs may be considered a contribution to the Houston Zoo, Inc. a Section 501(c)(3) corporation. The amount of the contribution that may be deductible for federal income tax purposes is the excess value contributed by the donor over the value of the good and services received.
Who should I email if I have any other questions?